It's the S.O.I. / Worldwide realize
Tweezy
was in town
once again
last night to rock The Fellowship of The Woodlands church and film concert performance footage for the video to his "Keep Shining" track off
The Missing Pages
album. Yep, that's the one that reunites him with former
Sons of Intellect
rhyme partner
Goldinchild
(who also does a guest feature on "I Won't Ever Stop" from
the original Yearbook
album.)
The event was an exclusive youth-only joint with very heavy security so I didn't get to see the show.
[Side Note #1: The security was for the kids - not KJ. He don't roll with an ego like that.]
[Side Note #2: We overheard that there were over 1,100 fifth and sixth graders there and they were trying to get a count on the number of seventh and eight graders. Sheesh!]
Still, my wife and I were able to swing by before he hit the stage to say hello and give KJ a few copies of the new
Tha Message magazine
with
my cover story on him
.
[Side Note #3: Shameless plug - Get your copy right 'chere.]
We also got an autograph for a 9-year old little girl who is enrolled in
our LearningRx business
and who was supposed to be headed to the show. Earlier in the day she told my wife that she was going to see "KJ-54" so Jonah indulged us with a signature and a playful shot of this new moniker.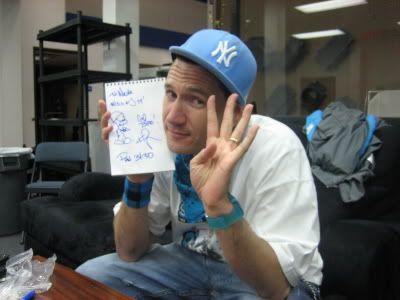 As always, KJ has a lot going on with some special stuff I'll detail in another post. For now, I just wanted to share a little behind-the-scenes info of one of CHH's hardest working men.
Oh yeah, and I'm kicking myself for not taking a photo of the special KJ-52
Smart car
the church had on stage for him at the show. It was killer.