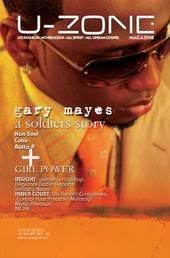 Here's a an interview article I did with Philly's
HanSoul
this summer.
As my regular readers know, I generally don't post stuff I've written for other publications until it has actually been released.
It was supposed to be out in the July / Aug / Sept 2007 edition of the print version of
U-Zone Magazine
but I've only seen the cover online and not a hard copy yet. Still, since Hans' double album
"Jesus Saves!"
is out now and people are talking about it I thought I'd share this little piece.
U-Zone Magazine:
http://www.myspace.com/uzone_mag
**********************************************************************
Growing up in the American church culture, I've occasionally heard people pray aloud for God to "hide" them "behind the cross" so that "only Christ may be seen." For some, this is simply lip service designed to create an unusual mental image. For HanSoul it appears to be a way of life.
Seriously, this is a cat who says "Jesus Saves!" every time he approaches a mic. Every time. Nearly one in every three songs on his double CD has the word "Jesus" in the title – you can imagine how often the name is invoked in the lyrics. He actually got fired from his radio gig for too much on air preaching – and it was a gospel station!
Surely this dude dropped straight out of the sky and is too heavenly minded to be of no earthly good.
Well, maybe not.
Hans Nelson wasn't always one who followed after Jesus. He might have been from the "City of Brotherly Love," but this Philly fella was only in love with his music.
In the early 90's he had a hit song ("Imagination") that went to the top 10 on Billboard's rap charts. Hans was the second rap artist signed to Epic/Sony records in 1991. He also completed an album with Loud/RCA records in 1994. Despite massive amounts of exposure and success, Hans says it was not enough to put an end to his insatiable pain, depression, drug-usage and confusion.
"In my old life I was into some very dark stuff," Hans said.
On a plane ride back from a video shoot and shows in St. Thomas, Nelson says he felt particularly depressed and called out to God for restoration. Once back home he started regularly attending church and praying when he felt God start to expose the evil spirits and personas that drenched his music's beats, lyrics, and images.
Although there was a significant amount of investment into his art, Hans says he felt God telling him to act like Eminem and start cleaning out his closet.
"After coming to know Christ I knew I would only rap gospel. I had some nice production reels and beats from my previous work – features with jazz legends like
Grover Washington, Jr.
– that I still wanted to use. But God said 'get new stuff' or there would be consequences if I didn't," Hans said.
Today, he doesn't even rap over beats made by Christians that contain samples from "secular" songs.
"I had to obey God. I wanted everything for him to be pure and to have peace in my conscious," the artist said.
His post-conversion music career grabbed the ear of
Matthew Knowles
(Beyonce's daddy) who wanted HanSoul for his upstart
Music World Entertainment
label. It also opened the door to a Sunday night radio show with the Cross Movement's
DJ Official
on Philadelphia's mainstream hip hop station.
Knowles' business efforts eventually fell flat and left Hans in the lurch. But the radio gig had taken off. For several hours each Sunday night, Hans and Official spun gospel rap and interviewed artists, pastors, athletes and other entertainers who professed Christ. As
Japhia Life
name-dropped in several songs, Hans was the city's "go-to" guy for holy hip hop.
For three years, Hans and his crew prayed for his listeners and the station. It eventually converted into an all-gospel outlet. While initially celebrated, the realities of the business of gospel music began to take their toll. There wasn't room for the hip hop show Hans had developed and when he dared to actually share the Good News during the few times he was on the air, it angered management. Rather than compromise and remain silent, Hans accepted his pink slip.
"I realize that following Christ comes with a cost. Sometimes that means you have to take a stand," Hans said.
Today, Nelson earns a paycheck teaching history and flipping houses. He's also enrolled at the Eastern Baptist Theological Seminary in Philadelphia and is completing his Master's of Divinity/Master's of Business Administration degree in addition to carving out time to faithfully disciple 12 young men at his local church.
The music hasn't stopped either. Through the Fishermen Ministry Group, Hans has released a multi-genre double CD titled "Jesus Saves!" The album features
Japhia Life, J. Johnson, Da' T.R.U.T.H.
, and the legendary
Dixie Hummingbirds
.
Hans said he ran into the Grammy winning gospel group at his previous radio gig and kept in touch with their manager. After repeated calls, Hans was finally scheduled for a meeting to discuss a future collaboration. In order for the feature to happen, Hans had to "pledge" the group for nearly a month and agree to attend their rehearsal sessions three times a week.
"During that time I got to really appreciate their heart and passion. They've endured and are still doing true gospel music when they could have crossed over and sold out years ago," Hans said. "I respect that."
Gospel isn't the only style of music "Jesus Saves!" explores. Throughout the two discs listeners will hear influences of rock, spoken word, reggae, soul, and even Christian Contemporary music (via a
Michael W. Smith
sample.)
"I want to be diverse," Hans said. "Particularly when there are pastors out there teaching that hip hop is wrong, I want to show them that we can worship Christ through this style of music too.
"God doesn't differentiate genres. Why should we?"
HanSoul will be the first to admit he's not perfect and still has to own and repent from his mistakes. But talk to the guy for any length of time and, once you get past the constant Jesus references that can often clog our ears, you'll sense a guy who is really in love with his Savior.
His passion for the Risen Christ is palatable. But to get to know Mr. Nelson you might have to look in the shadow of Christ's cross – something I imagine is quite all right with Hans.
**********************************************************************
Listen to HanSoul's music at:
http://www.myspace.com/hansoul
Buy "Jesus Saves!" downloads from
3hmp3.com
by clicking
here
.