The latest victims of the Internet Revolution – M.B.U. (Music Business Unit) include hip hop band
The Procussions
and the print version of
CCM Magazine
.
Thursday afternoon brought the sad news (via MySpace and message boards) that the mighty, mighty Pros were giving up the ghost.
Mr. J pronounced the death with these words in an electronic bulletin to fans and Friends:
with everything we could say about the industry, the point is, piracy will destroy an independent's career.

we want to thank everyone who actually invested in this group and helped it to its last breath! we owe you so much! That's why Stro and I will do our best to carry on our solo careers and work together when possible.

but.

The procussions have been inevitably shipwrecked, blows taken in the lower deck from the most fierce of all pirates.

love you guys and gals!

Mr. J continued the convo on the
Sphere of Hip Hop message boards
where he vented and transparently shared his frustrations with the (s)Industry.
Late in '07 it was announced that Rez had left the band to pursue other interests, so all of this isn't a complete surprise.
Nonetheless, one of the most talented and musically developed faith-based MC collectives have said they are no more. Please keep their individual members in your prayers.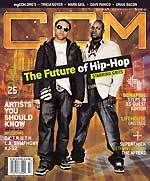 And on Friday we heard that CCM (Christian Contemporary Music) Magazine's parent company, Salem Publications, decided to stop production on the print version of the Nashville-based rag to focus on the development of its web-based incarnation.
The official statement can be found
here
.
What's shocking for those of us in the holy hip hop community is that this isn't just another gospel rap mag calling it quits (and we've seen our share of those come and go).
CCM covered it all from Tooth & Nail hard rock to Jeremy Camp pop to Third Day worship.
I mean – they had Micheal W. Smith money!
And they still couldn't make it?!?
This was/is also disturbing because the mag was
finally
starting to cover more HHH artists and news. (See the cover above that was all about gospel rap and featured
GRITS' Bonafied
as the guest editor).
Hopefully they'll continue to do that via their website (
http://www.ccmmagazine.com/
) as we've seen recently with their reprints of info from
Rapzilla.com
.
In light of these two stories and the
USA Today clips from earlier in the month
that detailed 2007's rapid decline of physical album sales, I wonder if there could possibly be anyone left that doesn't believe this InterWeb thing is changing the music biz.
I guess that's why cats like
Listener
are resorting to infomercials to ask that you help "Save the CD."