Christian hip hop's premier awards show has been put on pause for 2009 to better focus on external ministry efforts. Event founder
Bobby "Tre9" Herring
said he made the decision after much prayer and discussion with his team and other leaders.
"I think it's evident that if God wanted us to continue this year it would have happened by now," Tre9 said. "Instead, I'm really feeling drawn to devote my time and energy to organizing more external ministry efforts and to focusing on the development of the
DaSouth.com
and non-profit companies He has appointed me to steward."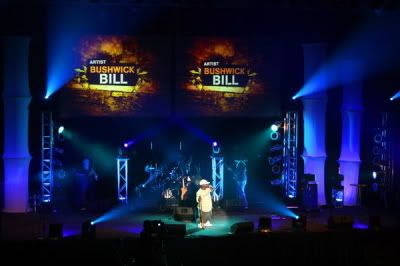 Periods of hiatus for such events are not unusual.
T.D. Jakes' MegaFest
was cancelled in 2007 and 2008 and Crossover Church's popular
Flavor Fest
is taking off this year in order to better prepare for its tenth anniversary in 2010.
For each of the All Eyes On Me Awards' nine years, Herring has taken a personal financial hit. He hopes that further developing and monetizing the DaSouth.com multi-media site he co-owns (which recently registered 16 million hits in a single month) will offer a better support base for the event.
"In this economy, I think it's also wise for us to take the focus off of ourselves and instead look to serve others," Tre9 said.
Such comments are not mere talk. In April, Tre9's Much Luvv Records partnered with
Rap-A-Lot Records
for a
Hip Hop Hope Family Fun Day
at the Prince Complex. This summer he's been holding similar
Hip Hop Hope Tuesday
events at the 5th Ward facility to engage and encourage the community through the revolutionary message of Jesus the Christ.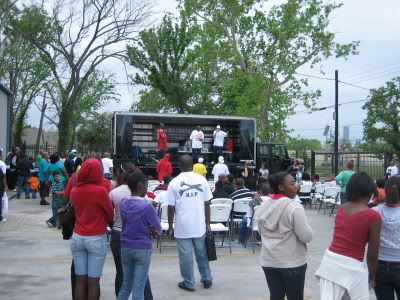 And now that he's free of AEOM commitments for a time period, he'll be able to spend additional energy assisting Much Luvv artist
Von Won's
third annual
Holy Hip Hop for Hunger
event at Rice University on September 11.
"I'm not saying we're going to quit the awards show forever, but we're definitely quitting for now," Tre9 said. "Prayerfully God will bless our efforts elsewhere and continue to make Him known to a world that desperately needs Him."
To keep up with Tre9's ministry efforts, visit his blog at
http://www.hiphopmissions.com/
.
About the All Eyes On Me Awards Show:

The awards show began in the summer of 2002 by honoring the pioneers of the industry within its hometown. After three additional years of only Houston nominees, the show went statewide in 2006 and 2007 by honoring individuals from across Texas.
The event recognized artists, retailers, pastors, media representatives, DJ's, graphic designers, vendors and others for their outstanding achievements and contributions in the inspirational hip hop music industry. Awards were given in over 30 different categories to the genre's upper echelon of power movers and shakers.
In 2008, it increased to a national scope and was renamed the All Eyes On Me Achievement Awards.