This is the
DaSouth.com
history story I wrote for the next issue of
SOUL Magazine
. However, in light of my man's
s/ave's
passing, I figured it would be good to share with everyone today.
***************************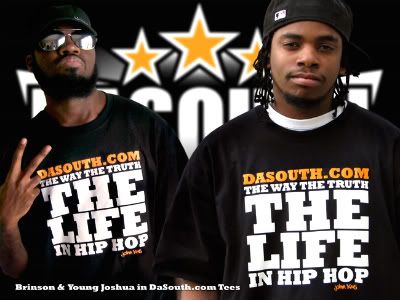 It's not like holy hip hop is lacking online community and news websites. We've got HolyCutlure.net, Rapzilla.com, VesselVibe.com, and Sphereofhiphop.com holding it down, right?
However, few are as eye-catching and chock-full of facts and opinion as DaSouth.com.
Launched on America's Election Day of November 4, 2008, the new DaSouth.com is a resurrection of an online hub previously started by noted Christian hip hop journalist
s/ave
.
A veteran writer for
Heaven's Hip Hop Magazine
and founder of
ONEMIND Magazine
, s/ave created DaSouth.com to be unified banner site for gospel rappers in the Gulf Coast area. The concept was that artists would forgo forging their own web identities and adopt the DaSouth.com name.
Instead of www.truvine.com or www.tre9.com , early site members simply claimed DaSouth.com as their home address. The front page linked in all of the affiliated artists and set itself up for synergistic cross-marketing. The idea being that when a listener or new fan received an album insert or poster with www.DaSouth.com printed on it from "Artist A" and sought out his ministry online, he would also be introduced to "Artist B," "Artist C," "Artist D," and so on.
"Hip hop media needed a network for 'da south' so I made one. Plus it gave me a great opportunity to contribute locally," s/ave said. "That made it more about friends, which really appealed to me since I was growing up [spiritually and emotionally.] Artists began to confide in me. I didn't care about their music, I cared about the person.
s/ave signing love
"God made it a very healing time for me. I got more out of founding DaSouth.com than I could have ever put in."
One of the site's early adopters was
k-Drama
. Although he hailed from Cincinnati, Ohio, his music easily appealed to residents of the Third Coast. It was something that drew Drama to the site and the main reason s/ave invited him to join in 2001.
"I respected the artists that grinded on DaSouth.com and was happy that someone had faith in what I was doing," k-Drama said. "Other than Grapetree [Records], it was hard for me to find southern sounding Christian rap, so a network full of them definitely made me feel at home away from home."
Another early affiliate was Much Luvv Records'
CY
, an artist who still carries the original URL nomenclature for his website: www.dasouth.com/complex. s/ave saw something special in this fellow Houstonian and asked if he could create an Internet presence for CY that was ultimately connected to the main hub.
"If it wasn't for s/ave I would not have had a website," CY said. "Another reason I've kept the domain name was through the leading of the Holy Spirit. I had no idea that DaSouth.com would become the mega site it is now."
Although the original vision of DaSouth.com was unity through a single name, the ties that bound began to fray as artists joined but also kept an individual URL on the side.
It became harder to sell and get buy-in for the idea and eventually the site withered away to a simple, yet lively, message board. s/ave also found his passions steadily shifting away from the Christian rap community to a group nearly as underground.
"Deaf culture," s/ave explained. "I left the world of hip hop to serve the people who didn't hear it."
s/ave enrolled in college level American Sign Language classes and began to get involved in deaf church ministries and stage plays. This left little time to maintain DaSouth.com.
However, he knew of a local Christian rapper and business owner who was an emerging leader in both his city and the movement as a whole. In 2008 s/ave handed over ownership of DaSouth.com to
Bobby "Tre9" Herring
.
Tre9 had previously worked with
Aziz "Zee" Peregrino-Brimah's
Bezworks Designs company when he needed a website for his All Eye On Me Achievement Awards show. Pleased with the outcome of that venture, the two formed an official partnership and started to plan for an attention-grabbing relaunch of DaSouth.com.
The new site would be more of a news and multi-media hub than a conglomerate site for individual artists. And despite its name and heritage, the new DaSouth.com would also expand its scope beyond the bottom half of the Mason-Dixon line.
"Honestly, God is the one who changed the focus," Zee said. "When the game changes, the plays you run change. When in war, when there has been a change within the enemy, you too have to change and take on a new directive.
"To focus only on the South while using the world wide web is an oxymoron of sorts."
Not that webheads seemed to mind. DaSouth.com is experiencing tremendous growth. The site now gets nearly six million hits a month. And from its Election Day launch to Valentine's Day (four months), the site had 1,000 registrants. One month later another 1,000 joined – effectively doubling its membership.
"That's an amazing feat," Zee said. "With those kind of numbers, we can approach corporations confidently for sponsorships and other initiatives. One thing Tre and I are thankful for is that God has given us business-sense and a passionate desire to see Christian hip hop propelled forward."
The site's original founder also supports the shift in focus.
"It seems to be bringing together everyone," s/ave said. "That's just Bobby's way. He has that gift."
And despite the fact that the new DaSouth.com is owned by two active gospel rap artists, it never seems to be pushing their specific agenda or ministry. If anything, both Zee and Tre9 appear to be underserved by DaSouth.com.
"Many people would assume that I would have Much Luvv on everything at DaSouth.com, but that is not my vision, it's beyond that," Tre9 said. "We create the environment for God to move via DaSouth.com's online community. We are unifying Christian hip hop by being a respecter of no one.
"You might see a person you never heard of before in the top news section or you might see an award-winning artist. One thing you won't see is our personal preferences or tastes only."
These days, the site has all matter of cutting edge multi-media features, including streaming radio (with
DJ D-Lite's 3rd Coast Fiyah
and
The Wade-O Show
), a video channel, artist interviews, music leaks, album reviews, and has become a destination for all things gospel rap.
"I absolutely love the new DaSouth.com website. It reminds me of allhiphop.com and we need that, man!" k-Drama said. "It's updated regularly and it keeps people drawn to it daily because of the 'up-to-the-minute' news blurbs and leaks."
DaSouth.com recently added Facebook-type community building utilities to the site and is revamping its radio station sub-section. Both Zee and Tre9 view the interactive portal as a business ministry.
"Our ultimate goal is to expand and maximize our exposure to the world as a genre," Zee said. "DaSouth.com is strategically aligning itself to be a part of that same 'lane' [as mainstream media] so that we can influence and win as many people to Jesus as possible."