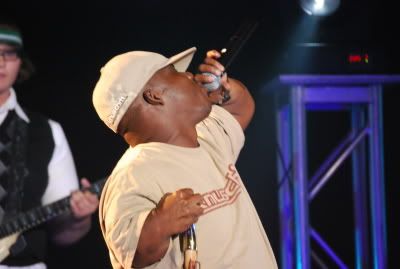 Photo by JT Patton
As many of you know, for the past year or so I have attempted to document
Bushwick Bill'
s attempt to enter the gospel rap market.
This is an intriguing story for both the mainstream and Christian masses. As a citizen of his hometown and someone who has worked closely with
Tre9
(who has in turn worked closely with Bill on this shift change), I feel a certain level of obligation to cover as much of this story as possible.
I also want to be honest – both with the facts and feelings associated with this evolution.
So here's one of the harder pieces I've had to write lately.
"Bushwick Bill vs. HimSELF"
is an essay that chronicles the details of Bill's July 4 reunion concert with the
Geto Boys
- his previous and legendary gangsta rap group.
Although Internet publishing would have enabled a hasty recap, I wanted to really spend some time prayerfully considering my words and seeking feedback from a respected circle of friends and editors.
Now it's
your turn
. Take a peek and let me know your thoughts.
As an introductory reference, here are two videos from the performances I mention in the piece (and that are roughly two weeks apart.)
Bushwick Bill freestyling "Takin' It Back" at the All Eyes On Me Awards After Party impromptu hallway open mic session
Bushwick Bill and the Geto Boys performing "My Mind's Playin' Tricks On Me" at the Warehouse Live show
Geto Boys