Here's a reprint of the
Soul P
cover story I wrote for
U-Zone Magazine's
April/May/June 2007 issue. If you dig it subscribe to the joint or check into buying some ad space and support holy hip hop journalism.
You can also hear
Soul P
interviewed on
The Wade-O Radio Show
you can get on
HCR.fm
or as a free podcast through iTunes.
[My apologies to Wade for giving him bad info about P's mission trip when he asked for input on the message boards prior to his interview. I told him Soul went to

Bolivia

when it was really

Grenada

. I got it right in the story and incorrect on the post. My bad! Thanks for the on-air rib though Wade. It's all love.]
The Arrival:
Okay, let's go ahead and acknowledge the obvious. Yes,
Soul P.
is the underground cat you used to know as
Soul Plasma
. Yes, he's got a record deal and some marketing money behind him now. And yeah, his latest album is designed for maximum sales and airplay.
Is it a sell-out? Maybe to some, but P doesn't see it that way.
"Sure,
The Premiere
is a very commercial record, but it's soulful at the same time," the artist said. "I'm comfortable in this role and don't think I've really changed that much. I do what I do and that's it."
The album's title is a bit of a misnomer. Syntax Records initially featured P in 2002 on the
Acts 29: Under Exposed
compilation with
Braille
and
Ohmega Watts
. He also released his
Simply Soul
and
The Soul Affect
albums on an indie level shortly thereafter. In fact,
The Premiere
theme is actually attempting to draw upon the image of a Hollywood movie launch more than a particular artist's debut. But even that has drawn its critics.
"Yeah, I've read some corny e-mails and message board posts that I was being too flossy or that my album cover and promo shots made it seem like I was glorifying myself," Soul P. confides. "I think they just missed the idea we were going for. I mean, the album cover is about a red carpet, step-out-the-limo type thing. That's it."
P said he responded to some of these keyboard critics and let others go unanswered. He further defends by saying he could have taken the easy route and simply given a mean mug glance to the camera for a thugged-out cover shot with a posse full of homies in the background. And it's not like the album's title was something more high-minded or abstract like
Grace
or
Peace
.
"It's cool though. My manager always tells me that if you don't have critics, then you don't have fans."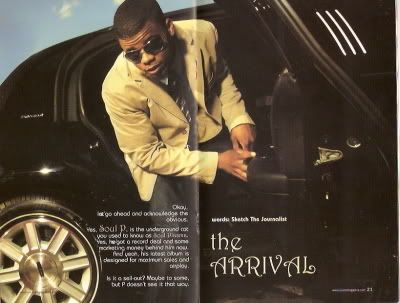 Beatmart, the ever-expanding label run by super producer
Todd Collins
definitely has Soul P.'s back. Of all the albums and artists released by the company, this one seems to be given a little extra nurture and care.
The Premiere
was marketed with a free download snippet-blend mixtape by
DJ Morphiziz
, a "Getting' In With Soul P." pre-release video blog, an album single video shoot with A-list production crew, is part of a joint partnership with Sony/ BMG, and had P hitting pop networking scenes like the NBA All-Star Game in Las Vegas and the Sundance Film Festival.
"The reason we're pushing
The Premiere
so hard is because, we as a label, believe so much in this record and in Soul P. as a person," Todd Collins said via e-mail. "Hopefully in the end, a ton of people will have been exposed to this record, to Soul as an artist, and a ton of lives will be impacted as a result. That's our prayer."
Talk to just about anyone who has collaborated with or observed Soul P.'s work ethic and you'll get the impression that any rewards or benefits now coming his way are well deserved.
"Soul P. is a joy to work with. Not only is he a man of God, he is a hard worker, in and out of the studio. He also has a keen ear for hooks, which we love over here. Creatively, we just mesh," said
Elected Official
of Winona Drive Productions.
"We trust his opinions and he trusts ours, and the stuff we do together comes out crazy fresh. I don't even think he's hit his stride yet either. He has a lot of great ideas and is just beginning to grow into who he is as an artist."
The artist formerly known as Plasma has also impressed gospel rap vets.
"I think Soul P. is the next-now. He definitely has the talent and the swagger and his connection to Beatmart can only lead to success. I love his CD!" Ras said.
In fact,
Lil' Raskull's
Grapetree records were some of the first holy hip hop soundtracks Soul P. heard after his 1998 jail stint and decision to follow Christ.
Although
Mike Greene's (aka Soul P.)
northwest upbringing has the familiar street-thug-to-rapper storyline, it wasn't any less painful or undeserving of respect. He says his various times behind bars were for knucklehead robbery and drug selling stunts as a juvenile. After getting his release, he was mentored and discipled by a youth pastor that gave him a legit job doing roof repair.
Once in church and seeing the kingdom of God expressed through hip hop, Soul P. was sold. He linked up with the
Lightheaded
(Braille & Ohmega Watts) folks for the Acts 29 project and later developed his Soul Plasma persona for the two indie records. By the time his "Five Fingers" track made it on Beatmart's
Best of the Submissions Vol. 2
, the buzz had begun.
Now, he's husband and father trying to balance family with constantly touring and spreading his light to schools and Christian festivals. Peep his schedule and you'll see dates with mainstream artists like
Bubba Sparxxx
followed by trip to Grenada for events with international evangelist
Luis Palau
.
Is Soul P. too flashy and polished to be a Christian who raps? Or this is perhaps a role that needs to be effectively filled in order for this message music to obtain its maximum impact and audience grab.
Too often, holy hip hop is only made for the street or the underground. Surely there's a fence-straddling
Kanye West
in our midst who can satisfy both the artistic and commercial urges of our industry.
In fact, he may have just made his
Premiere
.
***************************************
Watch the video for Soul P's "Whoa, Whoa!" below.