Man how I wish all the folks that bemoan the lack of unity within holy hip hop (HHH) could've been at this event. They would have been blown away. How? Let me count the ways:
a) The true sense of community, familiarity, and joy between hip hop artists
b) The number of selfless artists involved
c) The "bigger-than-me" goal of the night
d) The quality of performances
e) The length of the show (3 hours)
f) The price of the show (Free admission)
g) The blessed end result (Over $1,500 raised / 12 souls saved)
But first, a little background…
Da South Site
7 years ago in 2000 my man
s/ave
had an idea to turn his successful HHH magazine web presence (
http://www.om95.com/
) into a local community-driven hip hop ministry site, re-built to serve and expose gospel rap cats residing predominantly on the Third Coast.
DaSouth.com
was intended to be a unified destination where artists and labels waived their claim to an individual, specific web address URL (example:
http://www.christianrapnetwork.com/
) for an umbrella domain (
http://www.dasouth.com/
) that would drive increased traffic and allow for multiple artists to market and promote a single site.
The vision was that
Rapper X
pushes his website as
DaSouth.com
wherever he goes, while
Rapper Y
and
Rapper Z
both do the same. Then, when Li'll Johnny Newfan logs on to check it out he'll find out about Rapper X, Y and Rapper Z and everybody wins.
Although MySpace and other sites eventually cannibalized this vision, the site (mainly through its vibrant message board) continued to foster community between local HHH rap heads and went on to gain a rep as
THE
location for Jesus Christ's Southern urban music movement.
Da Mission
A few months ago s/ave stepped away from the game to be led in a new, unchartered direction in his life. Desiring his rap network to be cared for, he willfully transferred ownership of
DaSouth.com
to one of HHH's most faithful and steadfast leader stewards:
Tre9
.
As anyone who knows or has worked with Tre can attest, he always puts others before himself. Not content to use such a valuable and marketable domain name for his own gain, Tre9 continued to carry the torch and will use the URL to serve all music ministers who share his geographical location.
Understanding that the site could use a facelift, but not wanting (or needing) to bear the full financial burden of such an endeavor, Tre9 organized a benefit concert to raise the money needed to revamp
D@South
.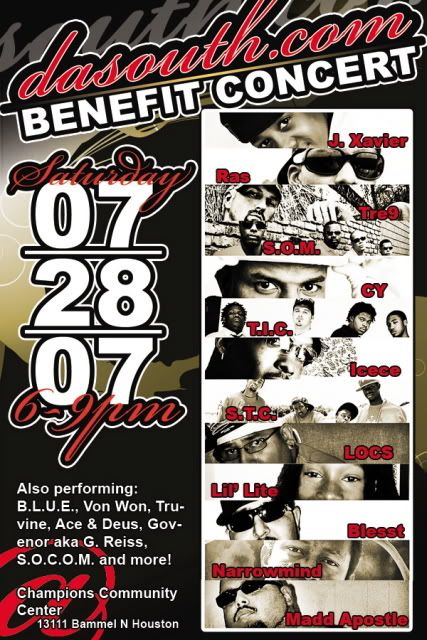 Da Big Show
On a night unlike any night in late July 007, Holy Hip Hop in Houston Texas experienced a cornerstone event. Although this benefit concert would be free to fans, artists wanting to perform were asked to contribute a $50 stage fee and help with general promotion.
Just about everyone who was asked came up with the cash (or more) and got up on the bill. Champions Covenant Church in northwest Houston -home to one of the Texas Holy Hip Hop Achievement Awards Show- was gracious to host it, and that thing got kicked off right, sometime around 6:30 pm til late with
AFC
and
J-Chill
as emcees.
NOTES:
I summarized the show at the jump and this blog is already longer than I expected, so from here on out I'll just drop in some flix and comments and let the pictures save me a thousand words.
The show went pretty much in the order I have described below.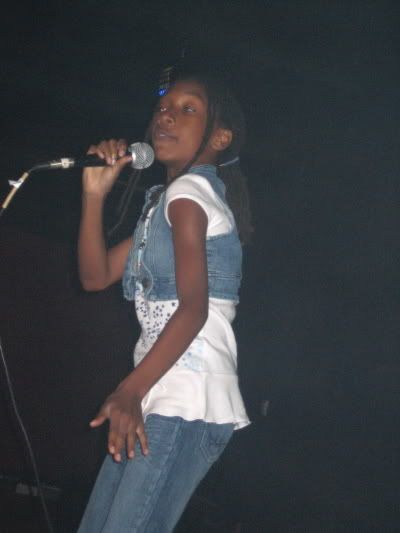 Lil Lite (J-Chill's daughter) kicked things off.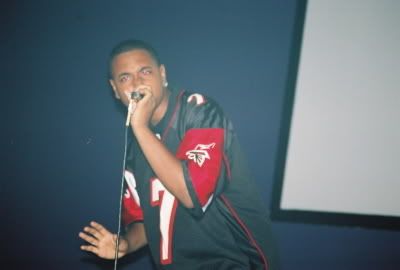 Ace and his boy Duece were next. Bruh was brave sporting the Michael Vick jersey. (To be fair, this was before The Running Man's boys rolled on him and Ookie copped a plea.)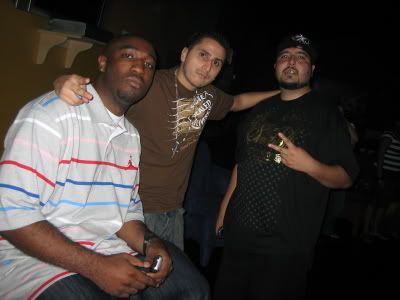 Von Won, Sypreme (of ABF), and Bless't were in the house.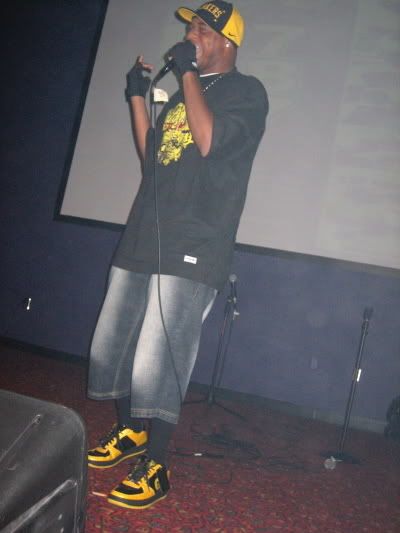 This photo doesn't show it but J Harrison is a dancin' fool. Dude even put on a dance contest for a fan to win CY's (not his) last album.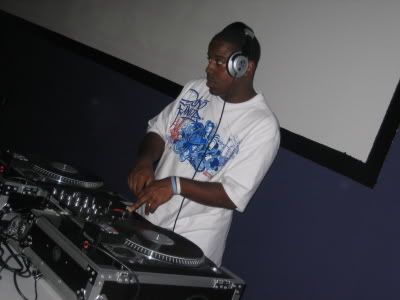 DJ D-Lite (my man's got more job titles than that West Indian family from In Living Color) came in from Austin to man the wheels of steel.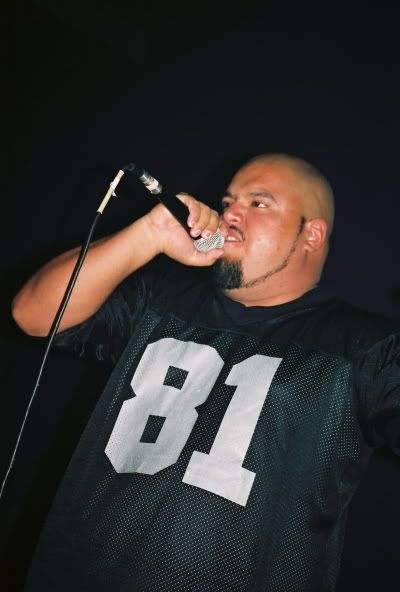 Madd Apostle spit some super-fast and heady rhymes.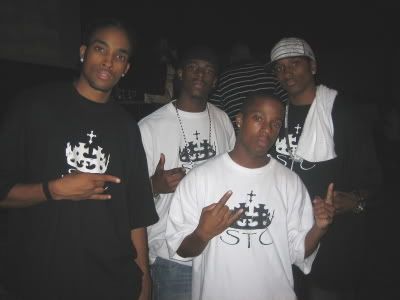 Still Trill Christians were in the building.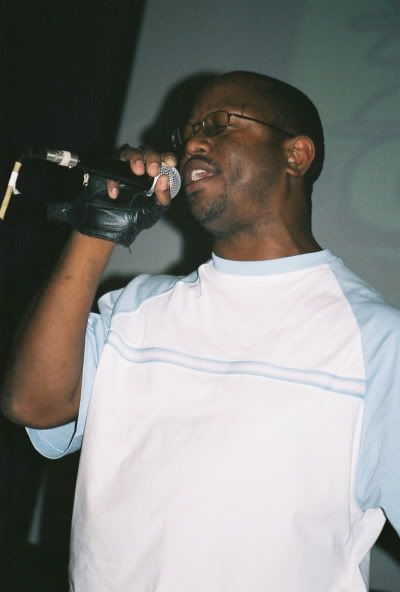 Narrowmind did s/ave's favorite Slow Lane Chronicles cut: "Thou Art God" and a new one called "Who Loves You?" that reminded us that Christ even has a heart for "the 9/11 terrorists, the rich, and the snitch."
Dude is also running a Christian musicians fellowship every 2nd Sunday of the month at his crib for the purposes of prayer, discipleship, networking, and breaking bread. If y'all are close hit him up.
R Lopez (a big fan/supporter you might recognize from the message board) was in attendance with his wifey and other fam.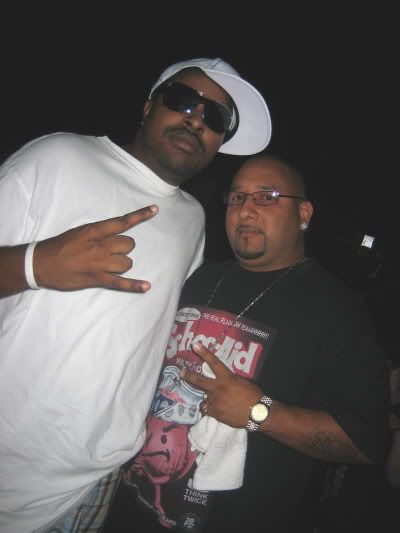 LOCs (he also performed) was in the crowd with S.O.M.'s Goldenchild (who also moderates DaSouth's message board.)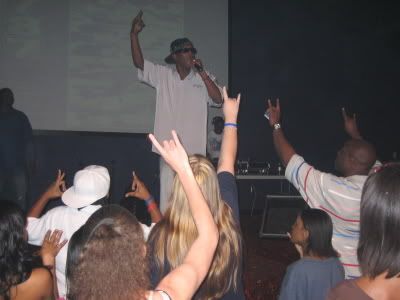 Icece got the crowd to put their H's up.

Tre made some

announcements

about some events that will continue to raise the profile of HHH in our area.
1. The first ever Holy Hip Hop Cruise will commence the week after the 2008 Texas Holy Hip Hop Achievement Awards. Book your room now.
2. The Gospel Announcers Guild will have their awards this Thanksgiving in Austin, TX and have a rap division for the first time this year.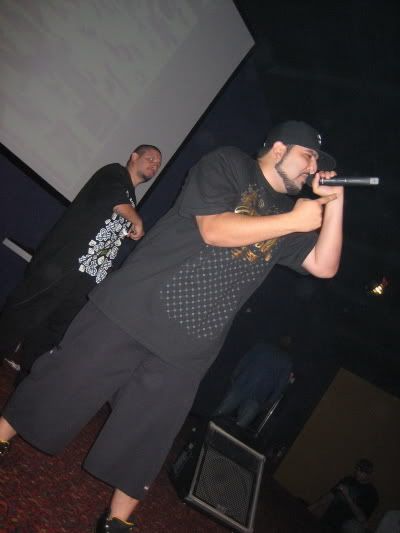 Bless't & Gangsta Loc represented Eternal Hu$tle and reminded us to pump "That Jesus."

DJ D-Lite and CY. Wait, ain't Mr. Smiles supposed to be behind the boards? !? Who's manning the turntables?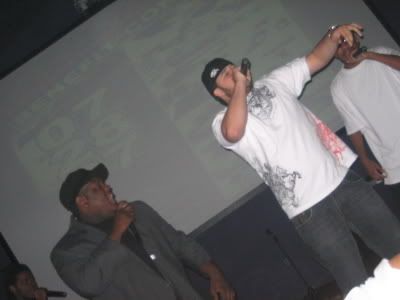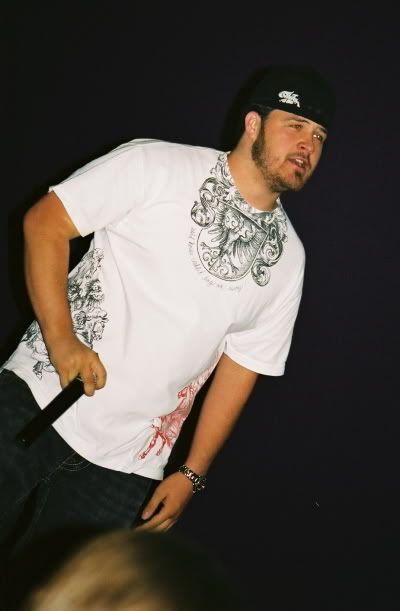 Chase Austin and them T.I.C. boys "bet us a $100,000 that our heads wouldn't stop bobbin." I think we lost.
Suge White (aka The Farmer aka The White White Man aka Bobby Ray aka Tre9) and Narrowmind take a breather.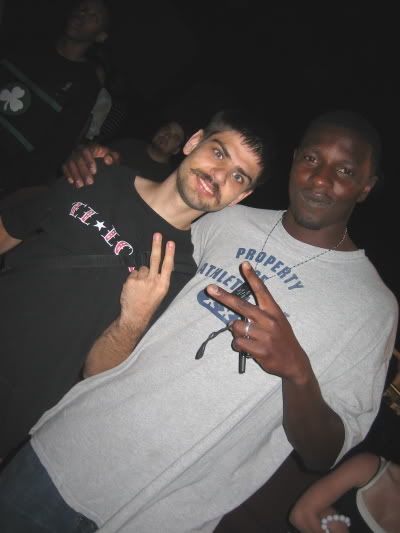 Truvine and his podna Lil Flea were there to shine their light.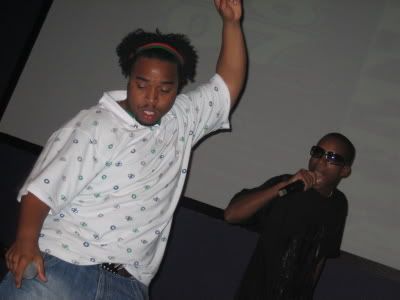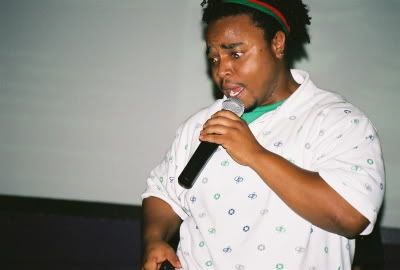 Austin's B.L.U.E absolutely killed it with some acapellas and my man is probably the best in the biz when it comes to facial expressions that emphasize his words and hooks. It definitely adds to the show.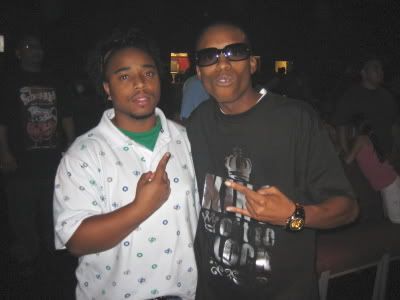 Anotha big announcement:
Lil Bleezie is now part of Lil Raskull's Javo Records family. Be looking for a re-release of his award winning "Times Change" disc and new version of "The Good News Bad Boys" with the Color Man and Ras.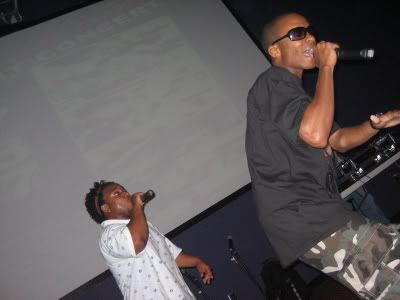 These boys tag teamed a nice set and really set it off. Ras told us to "Man Up!" and reminded us that if he says that Christ is the King we can "Bank On That."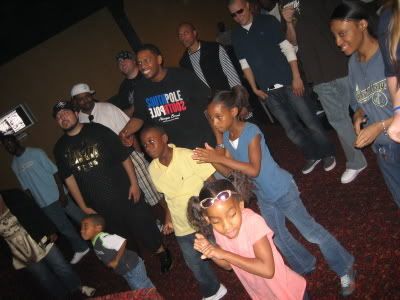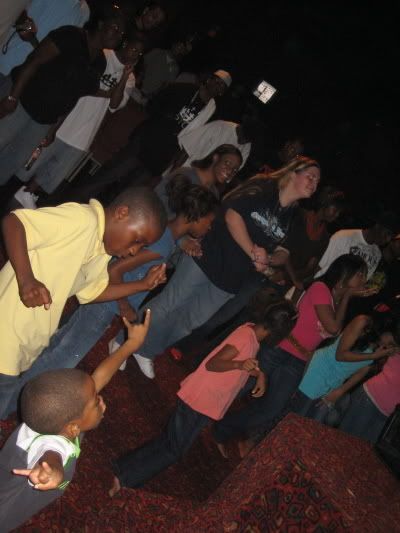 Y'all shoulda seen Ras' kids go wild for Daddy. They've got some fly dance moves and were fully supporting their pops. That's E-Man throwing up the rockstar horns with a lift from his big sis.
D-Rock and Yunek were in the place to be.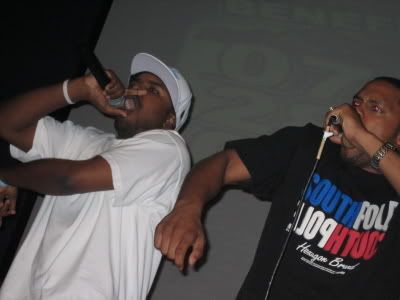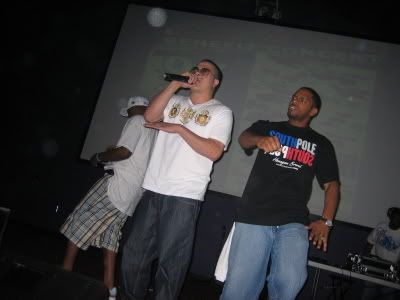 "Y'all Didn't Know" that S.O.M.'s got "Faith" and are some "Fiyah Starters"?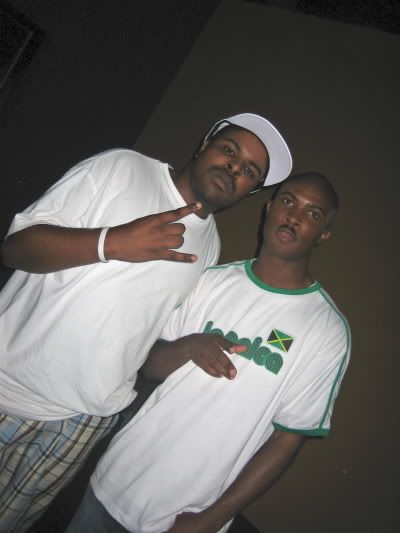 What about when Denzil added a reggae remix of "This Is Why I'm Hot" to "You Don't Know Me Like Dat"? It was heat!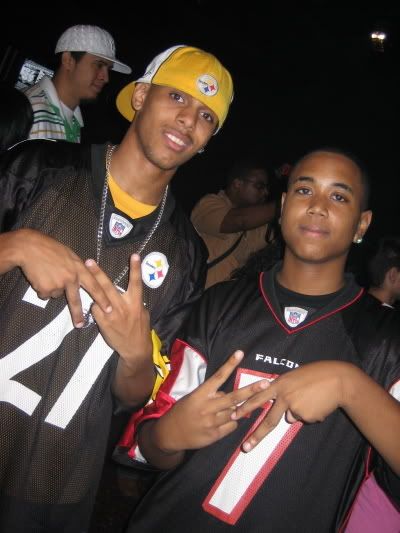 Ace/Deuce in the area.
Young Disciple banged it like it was "King Kong." His song "One Faith" was very appropriate for the night with its "If I make it, you make" theme for HHH unity.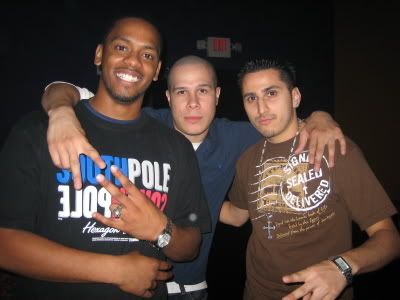 S.O.M.'s Boyce and Twin kick it with Sypreme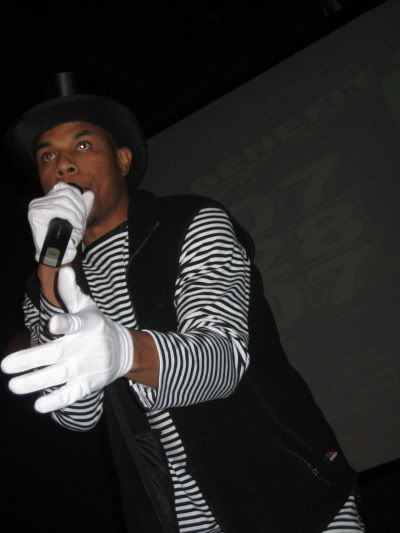 CY once again brought the "Circus World Event" and rocked it. Still with the top hat, but no red tails. This was a black and white affair.
Man, this CD is gonna be nice and deep. Lots of metaphors and stories to uncode and apply to your life. It's not a typical Dirty South sound, but we got love for real art.
During the set
Ras
leaned over and told me "That's my heart right there," referring to CY's more East Coast underground delivery. "I'm a b-boy from the old school," he said.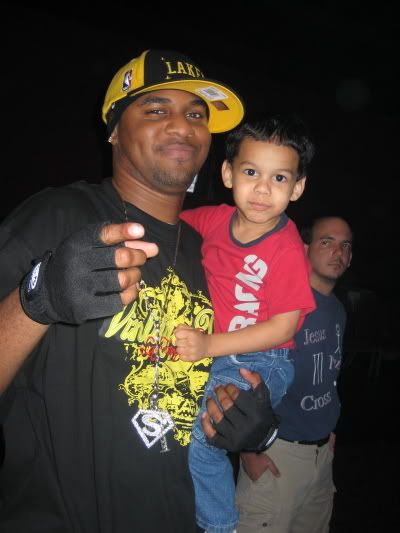 J Harrison and his youngest fan.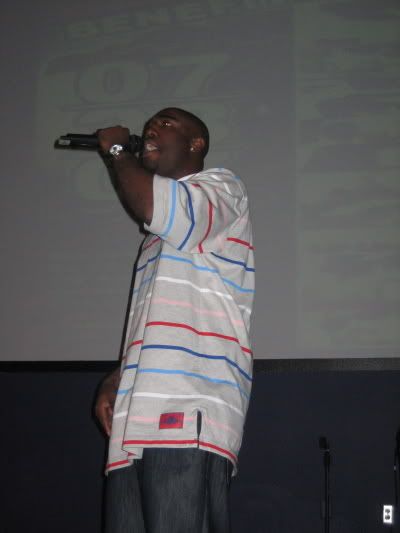 Anotha big announcement: Von Won is now with Much Luvv Records! "What's Up H-Town?" Did you know He can "clean you up and use you?"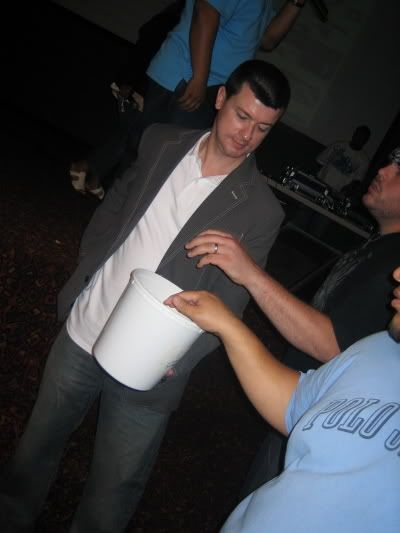 The blessing bucket was passed around by promoter/booking agent Jimmy McDowel. (You may also recognize him as the cop from S.O.M.'s video.) God loves a cheerful giver.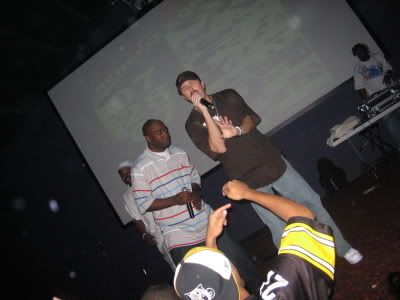 Finally, Tre9 hit the stage and took us to the farm.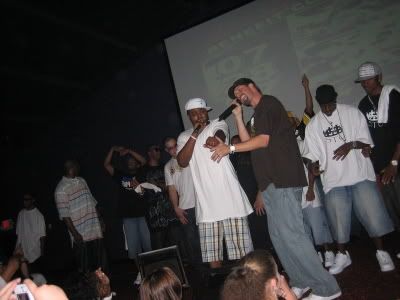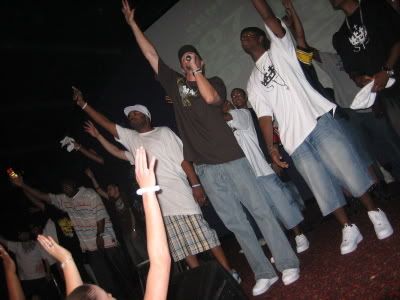 Then thangs got real cool as Tre invited all of the artists onto the stage for a final family jam of "I Be Comin' Thru."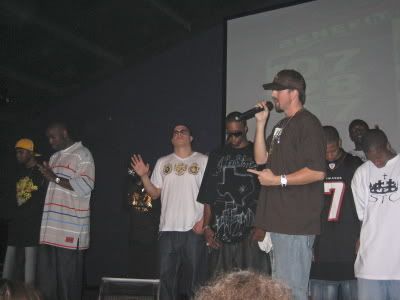 He also led us in a prayer for all of the HHH guys in the city and region and country. We prayed that God would bless them with the resources and staff that will make them more effective ministers. We asked for forgiveness for our selfishness. We thanked Him for the host church for the night. We prayed for the website and how it will be used. It was pretty dope.
Pastor Victor Pena also held an alter call. About 12 people made decisions that night to become followers of Jesus the Christ.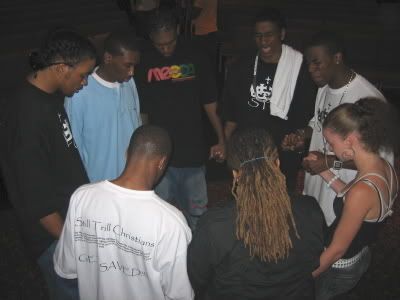 The Still Trill Christians were one of several groups offering to pray with people for their various needs.
So overall, it was a stellar, very memorable night. It reminded me of a classic Houston HHH concert from the late 90's where everyone was chillin', supporting, having fun, and winning souls.
There were different styles and crews represented but it was all under one purpose and one banner.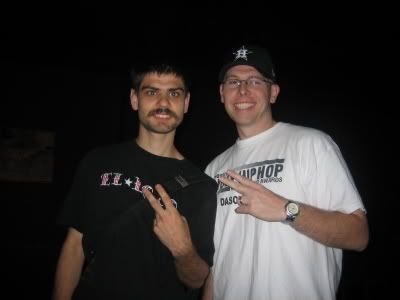 I really hope we keep this going.