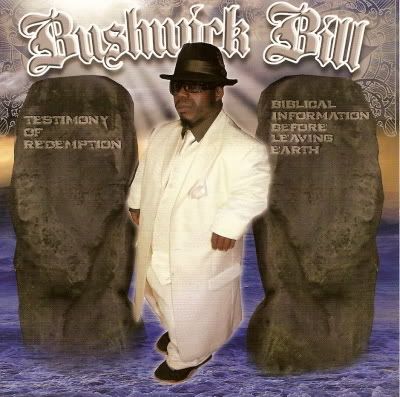 It's almost here:
Bushwick Bill's
first gospel rap album.
I got my hands on an advance promo copy (one single and six clips) and decided to share the cover.
Note that this ain't the final pic or tracklist. I also have a flyer that shows the cover with more detail in that the Ten Commandments are spelled out on the tablets to his sides.
Also, back in December when
BB had his listening party
, I got away with a possible track listing that I've been sitting on until just the right moment.
Here's what it looks like. Titles with a (*) beside it means it's on the promo disc I have in my possession. This is also probably not the final sequence.
1. Takin' It Back(*)
2. I Know What U Might Think (feat. Ras, Von Won, & Icece)
3. All the Pain
4. Testimony of Redemption(*)
5. Going to the River
6. Praise God for You(*)
7. God's Side is the Best Side
8. No More Child's Play
9. Spiritual Warfare(*)
10. Guardian Angel(*)
11. Sunshine
12. Thorn in my Side(*)
13. Calling Out to You
14. Life is a Beautiful Struggle
15. Praise of a Good Woman
16. Work It Out (feat. Gifted)
17. My Renewed Mind
If you want a sneak peek, run over to Bushwick's MySpace page and check out a few of the songs.
www.myspace.com/therealbushwickbill