All I can say is "What a night!" I haven't been to a holy hiphop event this unique in a while.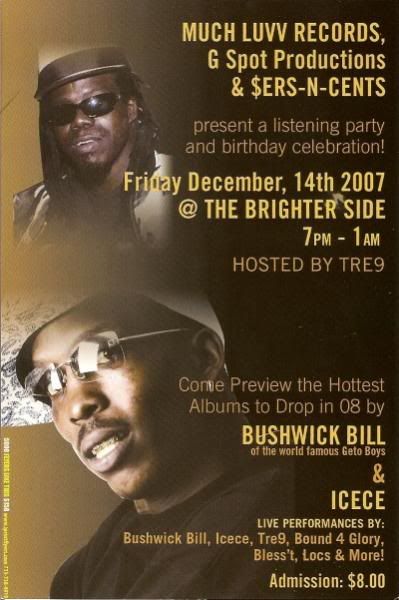 More than just a concert, Friday's jam at
The Brighter Side Café/Club
also included celebrations of several birthdays and the surprise announcement that
Much Luvv Records
was losing one of its team members.
Oh yeah, we also got sneak previews of tracks off of two upcoming albums from
Icece
and the legendary
Bushwick Bill
(of the
Geto Boys
).
Happy Birthday to…
Bushwick Bill
Icece
Mrs. Tre9 (aka Maria)
Mrs. Bless'T (aka Linda)

The small $8 cover charge went to support
The Brighter Side
and included a full fajita dinner (con aroz & frijoles) - plus we all got to grub on the cakes.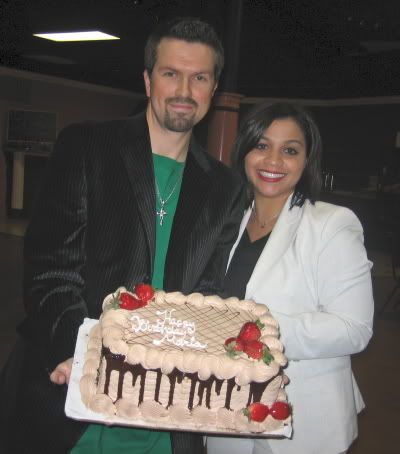 Tre9 and Maria show off the goodies

As the crowd filtered in,
DJ Chill
manned the music booth and got all the kids dancing to the some old school hip hop classics and the latest gospel rap heatas.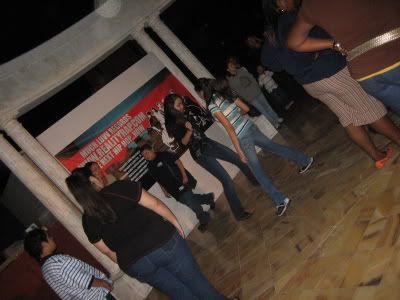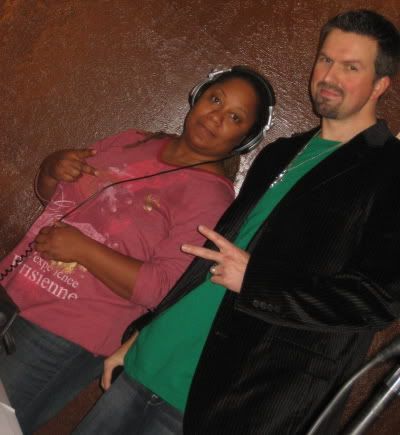 DJ Chill and Tre9 behind the scenes

Shortly after that,
Tre9
took the Master of Ceremonies mic and explained that evaluation forms were being handed out to the audience to rate and rank tracks from Icece's upcoming album. Each song got a minute and half of play time and then the crowd was asked to give each title an:
Industry Rating

(A-D): A. Radio Single / B. I'd Buy It / C. Might Buy It / D. Wouldn't Buy It

Personal Rating

(1-5): 1-Trash It / 2-Needs Lots of Work / 3- Good / 4- Feelin It / 5-Bangin

Dislikes

(optional): Ex: Beat, lyrics, delivery, sound quality (mixing), feature artists, etc.

Such market research is a common practice in the mainstream music industry, but it's a rare occurrence in the holy hip hop world. And it's such a win-win for the audience (previews of new tracks) and the labels (advance feedback before making any final decisions) that I don't know why more people don't take advantage of it.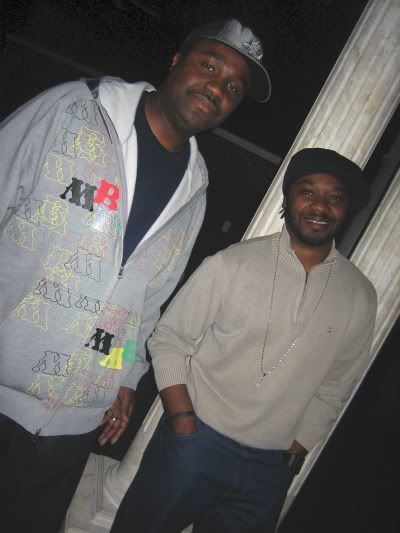 X-Thug (of The Brighter Side) and Stephen Oran (fka Stikk)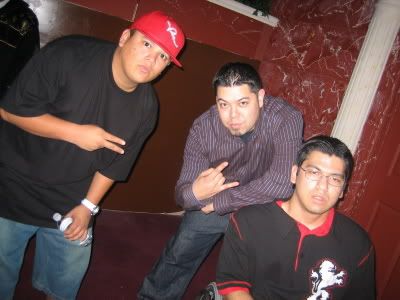 Testimony with producer Bruce Bang and his wheelchair athlete brother Kevin

Before and after Icece's listening session, several acts took the stage for a quick set. Those that blazed the mic included:
AFC, Gifted
(Bound 4 Glory Records),
Chosen, Bless'T, and 007
(formerly of the
5th Ward Boyz
).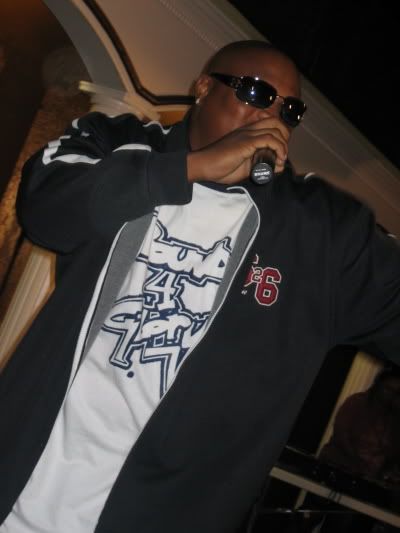 Gifted on the mic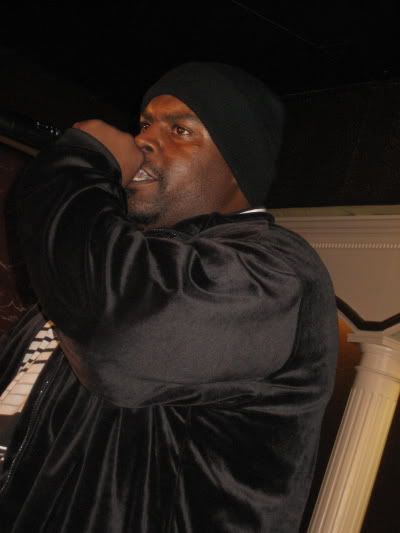 007 comin' fierce
Next, we got to hear and evaluate songs from Bushwick Bill's "
Testimony of Redemption
" album. Man was there some fire here!
Seventeen cuts in all, from the anti-Chucky, rock screamer
"No More Child's Play"
to the remake of the classic
"Mind Playin' Tricks On Me"
called
"My Renewed Mind."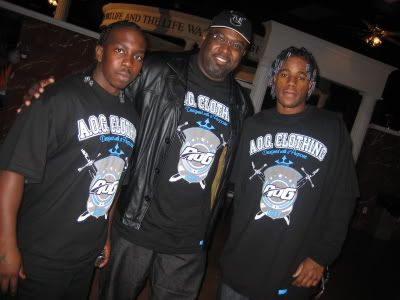 Charles, Pastor T, and Joe from A.O.G. Clothing
The album has several guest features from local HHH cats like
Gifted, Bless'T, and Lil Raskull
who were in attendance that night and later took the stage with him.
I gotta tell ya that Bushwick is
serious
about his change. At a side table during the listening session he chopped it up with Lil Raskull and said he wasn't satisfied with just doing this one album. He said God had laid it on his heart to do a triple album tentatively titled
"The Father, Son, and Holy Spirit."
Gifted, Ras, and Bushwick engage in some real talk.
He said he didn't want people to see him like
KRS-ONE
who dropped "
Spiritually Minded
" and then went back to his typical material (and was thought to have only done a gospel album to pimp sales from the church crowd. )
Instead, Bill said he has done and said so much evil in his old lyrics and that he needed to set things right with his new content. He said he wants to touch everyone with his music and even include tracks done entirely in Spanish or Jamaican slang.
A drop date for "
Testimony of Redemption
" has not yet been set, but look for it in 2008 on the G-Spot Productions label.
After the BB listening session, Colcutz and Tre9 took the stage followed by
Von Won
,
S.O.M.
and Icece.
Tre9 and Colcutz (in the Lupe Fiasco-like hoodie) get the crowd moving without any Souljah Boys

S.O.M. - They some real "Fiyah Startas"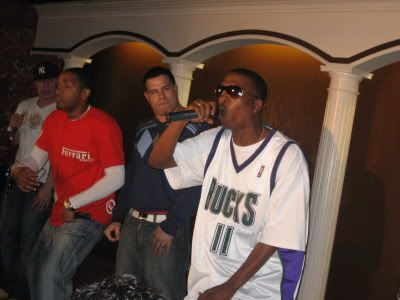 Icece is 6'3" flowin....

At the end of Icece's set, Tre9 asked that everyone from his label join him up front for a major announcement. He reviewed the history of his Much Luvv Records label and how Icece was an old high school friend who reconnected with him over the past few years. Icece was intended to be Much Luvv's first mainstream artist (still positive and clean, just not so Scripture heavy) but that a bigger opportunity had been presented to him that he had to take.
Never one to hold his artists back, Tre9 gave his blessings for Icece to sign with
J7 Records
out of Baton Rouge, LA. J7 has a relationship with Universal and can possibly put Icece in front of millions and millions of listeners.
The Icece presentation and prayer
Both sides embraced and prayed as
T-Trax
(J7's main man) thanked Much Luvv for their above-the-board business ethics and for grooming Icece's career up to this point. A cool feature of this move is that Tre9 will actually continue that relationship as a manager/advisor for his former artist.
Tre9, Icece, and T-Trax

Finally, the Little Big Man took the stage to perform some of his new material. He said he was nervous about the performance and still getting into "show mode" with some of his new lyrics. Nonetheless, he did it all with a smile and his trademark giggle and humor.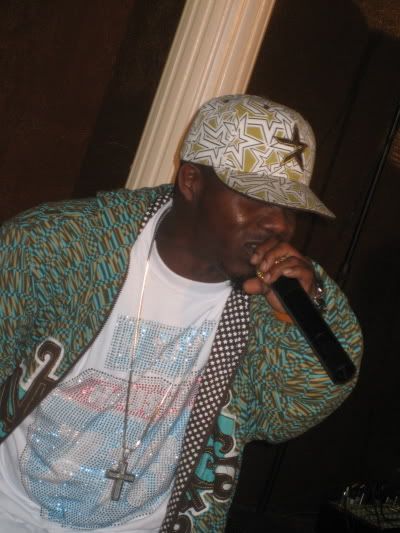 Bushwick blasts off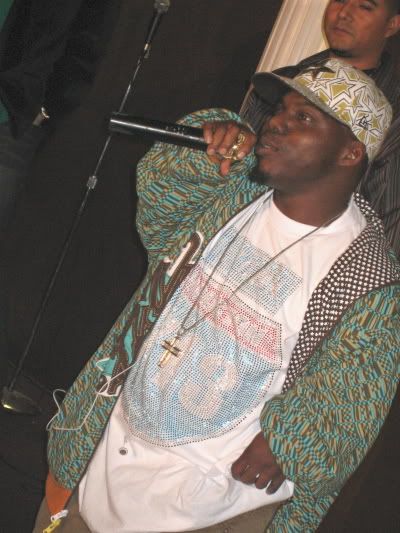 "What's up Party People?"
The "
All Eyes On Me" TV
show camera crew was in the crowd in addition to some guys filming for an upcoming documentary on Bill's life.
Tre9 assisted on the hook for
"Takin' It Back"
(
Bushwick Bill / takin' it back / to the days when people actually learned something from rap
) and AFC and Gifted joined in to perform their parts on
"Work It Out."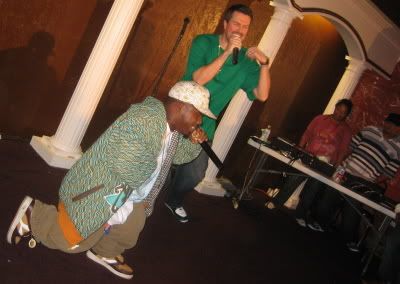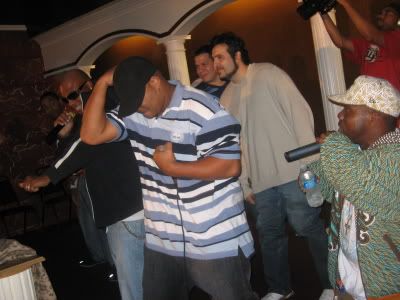 Gifted, AFC, and Bushwick break it down

Bushwick closed out the night with a prayer for the families of Houston's fallen recently deceased rappers (
Fat Pat, Hawk, Big Mo
, and
Pimp C
) and took the audience through a recitation of the Sinner's Prayer confession of faith. He also asked people to lift him in prayer as he continues to try and follow and imitate Jesus the Christ in his daily life.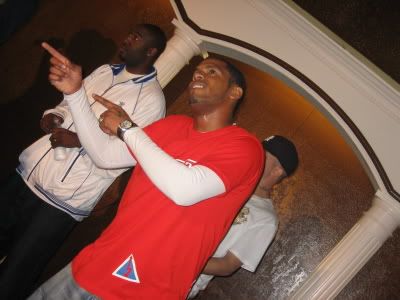 The always animated Boyce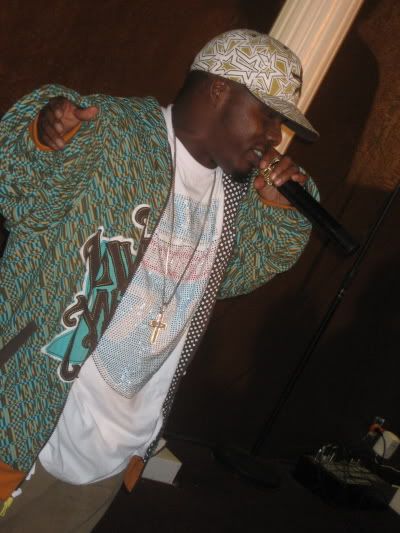 As I said, it was quite a night. Look for more details on both Icece and Bushwick Bill's albums in the near future and check out The Brighter Side on any upcoming weekend for a chill, Christian social environment.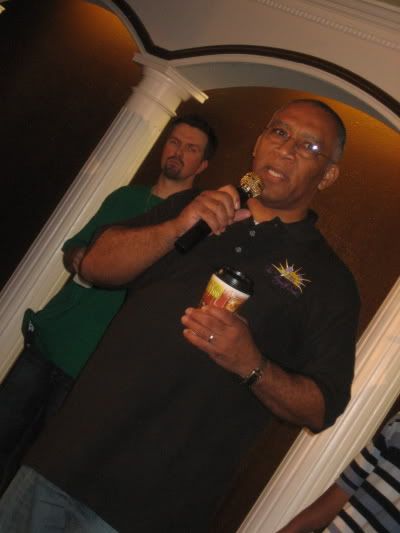 Mr. Morris of The Brighter Side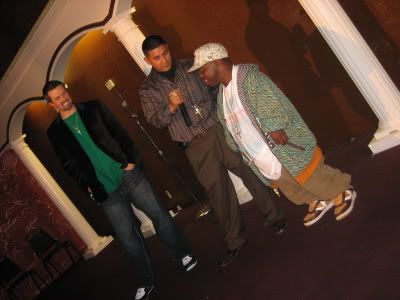 Bushwick with his G-Spot Records partner
Hear Bushwick's new music at:
http://www.myspace.com/therealbushwickbill
Hear Icece's tracks at:
http://www.myspace.com/icece