Market Street advance promo poster
A week ago tonight I was doing a little bit of sweating. It was for a great cause though.
It was the launch party for a global clean water project called
Hydrate Hope
. HH is the first push from a non-profit organization started by two friends of mine (Shep & Coley) from Montgomery County.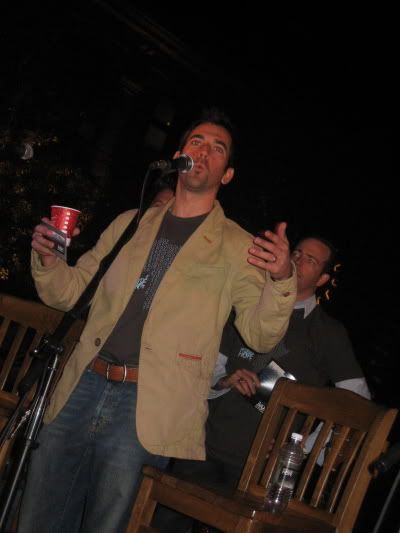 Shep takes the stage.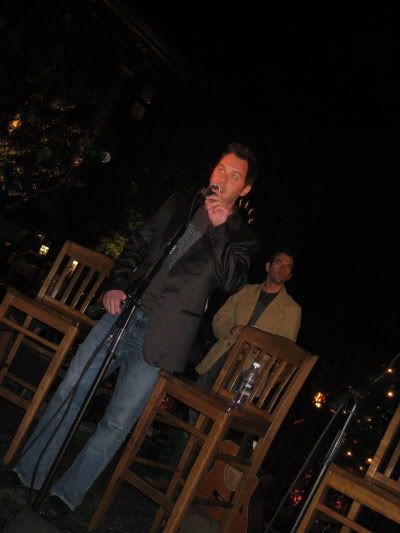 Coley on the mic.

i am change
exists to challenge people to "step outside of themselves" and do something to help solve some of the world's greatest needs. First up: Clean water in Africa.
From the Hydrate Hope website:
Hydrate Hope is a movement that began out of asking the question, "with so many needs in the world, where can we begin to make a difference". Our answer…start with the biggest. With water being the #1 killer in the world, our passion is to engage this preventable global atrocity head on.
Over 1.1 Billion people in our world have no access to clean water. That's basically 1 out of every 6 people on our planet. More than 2 million people, mostly children, die each year from preventable waterborne illnesses.
2.6 Billion people are without basic sanitation. Many women and children walk over than 2 hours each way to often fetch more than 40lbs of dirty water for their families. This creates an absence of time and energy necessary for education or small business.
The heartbreaker...4 children die every minute...that means that every 15 seconds another child dies....we want this to change. This has to change!"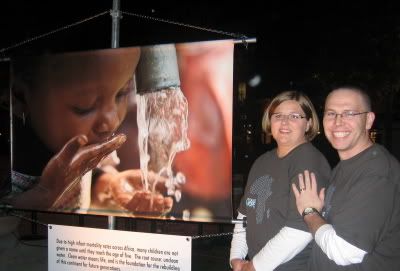 Clean water getting to people who need it most makes Kim and me smile.

So what happened last Thursday? Basically, we raised awareness and money.
i am change
took over the Central Park area of the Market Street shopping center in The Woodlands. While people were buying XBoxes and iPods we were trying to engage them in a conversation about one of the world's biggest issues.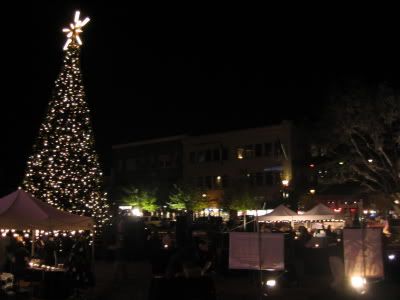 Market Street lit up.
I know it sounds all dark and heavy, but it was actually a lot of fun. My man DJ Millhouse spun some Christmas tunes and we had Nashville band
Love and Theft
(recently signed with
Lyric Street Records
, home to such artists as
Rascal Flatts
and
SheDaisy
) take the stage for several sets of their talented folk-rock.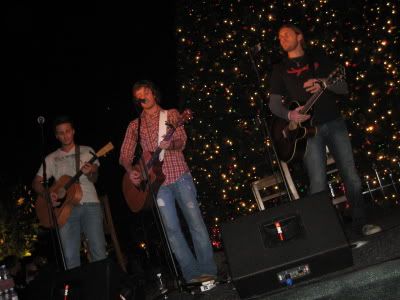 Love and Theft brought the crowd in.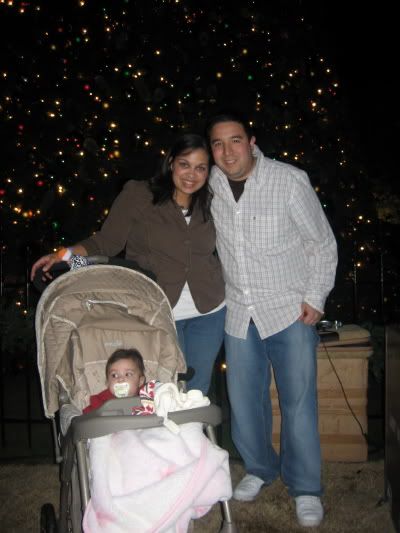 DJ Millhouse (aka Noe) with his wife Vanessa and daughter Mia Mor.
L&T close out the night.
We had hot chocolate, hot coffee, brownies, and other assorted pastries. We sold raffle tickets, Christmas tree ornaments, T-shirts, and bottles of water.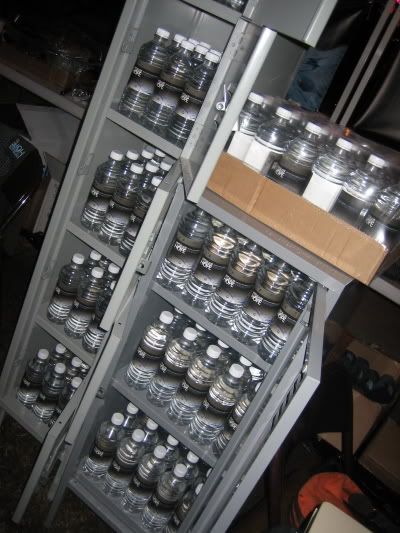 Water bottles were sold for $20 each. Outrageous right? Not when you know that the cost of that bottle can/will provide clean water for an African for the next 15 years.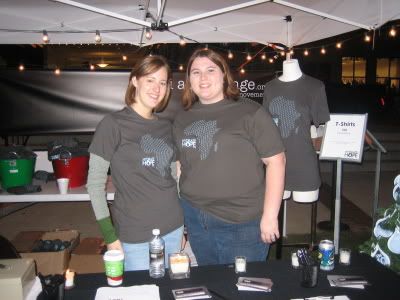 Whitney and Jess handle the merch booth for those sweet T-shirts.

In all, I think it raised about $9,000 for clean water projects in Sierra Leone. Probably 400 – 500 people passed through the park during the two-hour event and
i am change
successfully launched its first project and event.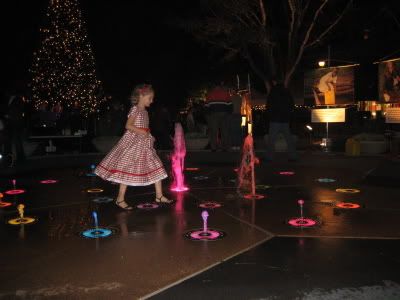 Joyous dancing around a fountain of water. Make the connection?
To learn more about
i am change
and Hydrate Hope hit these links.
i am change:
http://iamchange.org/
Hydrate Hope:
http://www.hydratehope.org/
And to see more, much, much better photos of this fantastic night check out my man Chip's blog from
studio563
. Look for my bald head interviewing some of the attendees.
Chip's pics:
http://www.studio563.com/houston/chip/?p=690
Grace and peace this Advent season.
************************************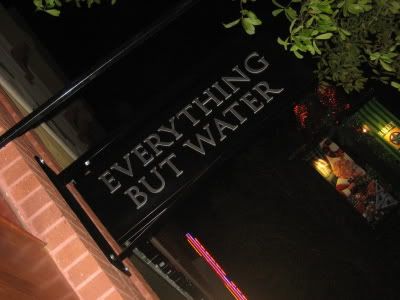 As I was helping the
i am change
team clean up I ran across this store not three doors down from the
Hydrate Hope
awareness event. Crazy irony, no?