Da' T.R.U.T.H.
rolled into town with Deitrick Haddon for the CRM Youth Yahoo event a few weeks ago. It was a rainy night on Houston Community College's main campus and there were a good 500 folks inside the main auditorium to hear the Word presented in both sermon and song form.
A.B.F.'s Sypreme did his best Kirk Franklin impression with the choir.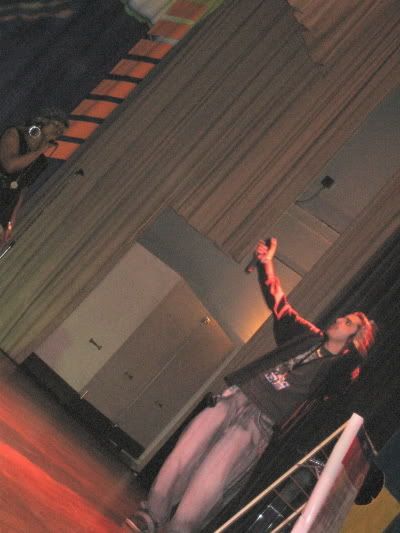 Havikoro b-boy / Much Luvv recording artist / CRM youth pastor
ColCutz
introduced each minister and even did a track from his "Artistically Speaking" album.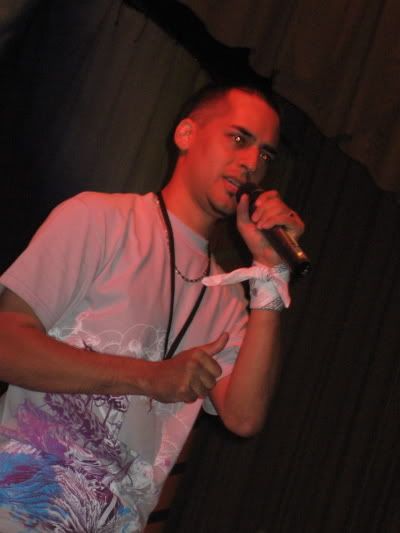 CY
's Circus World Event Tour made a stop and once again, stole the show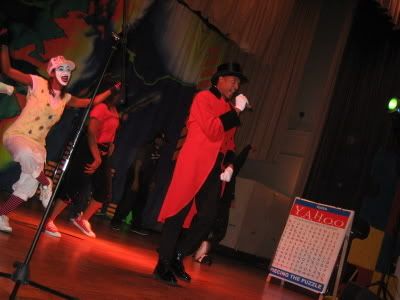 Mime time
Switch it up in all black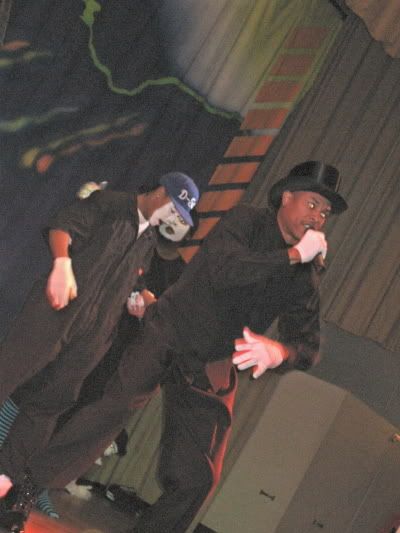 After
CY's
set the
Youth Yahoo Ensemble
hit the stage again. Heavy drums and traditional call-and-response worship songs got the crowd (even some older ladies) out of their seats dancing and clapping. One song proclaimed God's goodness for about 15 minutes straight.
Next up
Cutz
introduced
Da' T.R.U.T.H.
from the Cross Movement camp. For those that don't know, Truth's
"Open Book"
album hit
#2
on the
Billboard Gospel
chart its first week out. That's a phenomenal achievement and should send a signal that this is a viable and marketable form of Good News music.
Not sure if you can tell by the photos, but
Da' T.R.U.T.H.
hit the stage BIG time. A funny visual that struck me was the size of both his
Bible
and his
boots
. It was a coffee-table style "sWord" and the Timbos nearly met the top of his oversized denim shorts. A nice East Coast throwback.
After the intro,
Da' T.R.U.T.H.
did his "
Who Am I
" song (minus
Tye Tribbet
) that got the crowd rockin' and saw him doing a little struttin' during the song's funky breakdown ending.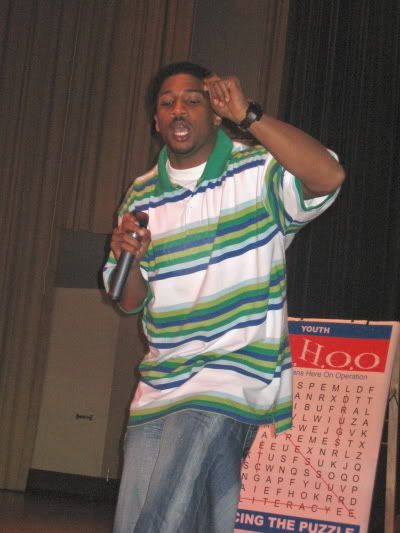 Unfortunately that was the only music he would do that night. Instead, he dove right into the Scriptures and exhorted the audience to persevere in their Christian faith. He pulled elements from
2 Timothy 2
and the party parable from
Luke 14
.
A fantastic note he made about the story was an answer to the question I've always had about why the host was upset with the guests who declined his invitation for seemingly valid reasons.
DT said that that fact that the host sent out his servant to find them indicates that these were people who had already RSVP'd and made a commitment to come to the feast. When they blew it off it hurt and offended the host.
Obviously, the analogy extends to those of us that have committed to Christ yet slack off on our walk for seemingly valid reasons when we really should be faithful.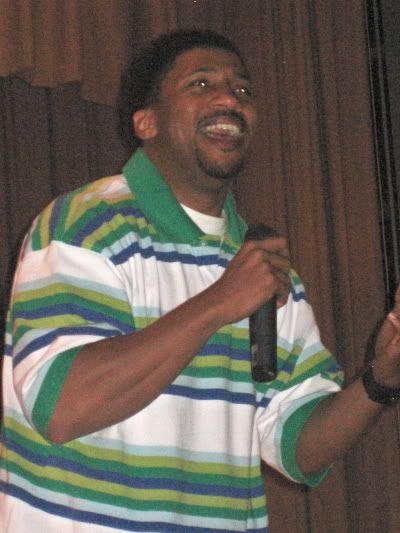 During his teaching, Da' T.R.U.T.H. tended to stand on the edge of the stage. Because of the lighting setup, it kept him in the shadows most of the time and his face was a bit concealed.
Given that he only performed one song and went straight to preaching it struck me that this habit of remaining hidden might be a conscious choice - as if he were declaring with his body language that he is willing to deny his own fame and "celebrity" status in deference to The Message. Even though it didn't make for a good "show," I have to admire the selflessness whether it was intentional or not.
D Haddon hit the stage next but I had to bounce and missed most of his stage time. I'm told by
ColCutz
that it was a great night though and many kids gave turned their lives over to Christ at the end of the event. Let's keep them in prayer as CRM and other churches begin the process of making these converts into true disciples.