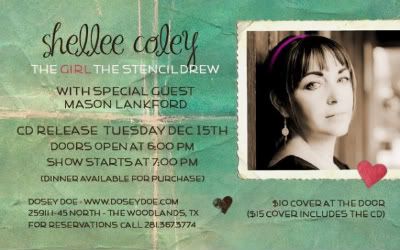 My very good friend
Shellee Coley
will be releasing her new EP,
The Girl the Stencil Drew
, this Tuesday night,
December 15
in The Woodlands, TX. Her "pop music for real women" style is full of honest lyrics about self-image, relationships, and faith.
Details:
(The Big) Dosey Doe
Tuesday, 12.15.09
Doors at 6pm/show at 7pm
Musician Mason Lankford opens the show
If you're a local, please come out and support. If not, at least do yourself a favor by visiting
her site
and sampling the tracks. There, you can place an order for a physical copy or purchase a download of the digital version.
Check it out at
www.ShelleeColey.com
Take a listen to the haunting song: "Uncomfortable."