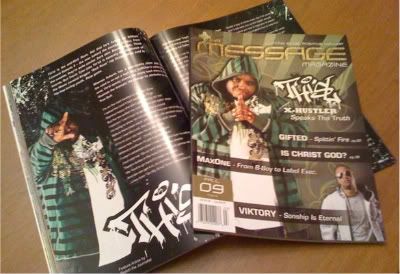 The latest issue of
Tha Message Magazine
is now in print. It carries a special gold-foil-embossed logo and my cover story on the Ex-Hustler
Thi'sl
.
Here's your teaser paragraph:
Thi'sl is the anti-Rick Ross.

Not that he's hating on William Leonard Roberts II – the man behind the moniker. In fact, from the outside, they're quite similar. Dark skin. Barrel chests. Thick beards.

But Travis Tyler (aka Thi'sl) is squarely the antithesis of the Miami cocaine kingpin "Rick Ross" rap image being sold to hip-hop loving youth.

Peep game.
And, publisher
Payday
tells me they've signed a distribution deal to place the book in
Hastings Home Entertainment
stores which means you'll see it on the same shelf as
XXL
and
The Source
.