If there was ever any doubt that today's God-fearing rap enthusiasts had forgotten those that blazed trails before them, let the
6th Annual Texas Holy Hip Hop Achievement Awards
stand as
Exhibit A
for the defense.
Held June 22-23 at Copperfield Church in northwest Houston, the weekend's events included guests and participation from the likes of
The Sugarhill Gang
(one of rap music's first recording artists),
Special Ed
("I Got It Made"), MTV journalist
Sway
,
Andre "007" Barnes
(formerly of the
5th Ward Boyz
),
Fred Lynch
(Preachas In Disguise),
Ed Grice
(DJ EST of Apocalypse), and 10 year gospel rap veterans
Lil Raskull
and
Mark J
.
The two-day celebration of Texas-based holy hip hop (HHH) began on Friday with artist development workshops that included a brief history lesson on the genre, classes about mixshow radio and independent label promotion, and a final panel discussion of
"Hip Hop AS Religion: Have We Made the Music Our God?"
Fred Lynch @ History of Holy Hip Hop Workshop
DJ D-Lite & DJ Ovadose (Choppaholix) discuss mixshow radio

The panel discussion
(Left to right: 007 formerly of the 5th Ward Boyz, journalist Matt Sonzala, Ed Grice (DJ EST of Apocalypse), Fred Lynch (P.I.D.), BB Jay, Levi of Street Life Worldwide)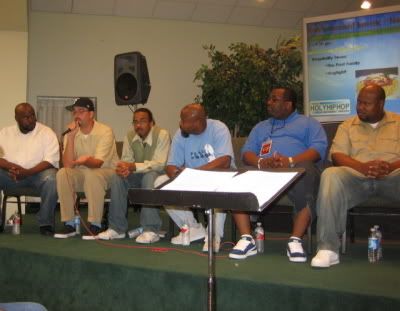 Levi & The Sugarhill Gang on the panel

The question at hand generated a challenging conversation and ultimately concluded that while hip hop may not be a religion unto itself (despite the claims of some church critics), it could indeed become an idol.
The Sugarhill Gang
members offered cautionary tales from their vast experience as touring musicians and even quoted several passages of Scripture as encouragement for the younger artists in the audience.
Saturday afternoon's
downpour
necessitated a few last minute changes to keep the media red carpet dry, but shortly after 5 pm the evening's various nominees and performers began to file in to take interview and photo requests.
Red Carpet media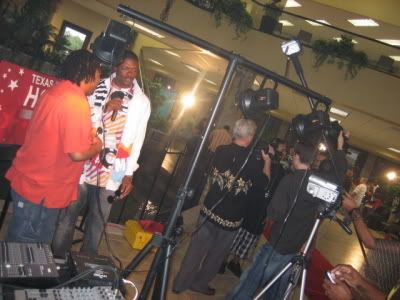 Bless't & Wally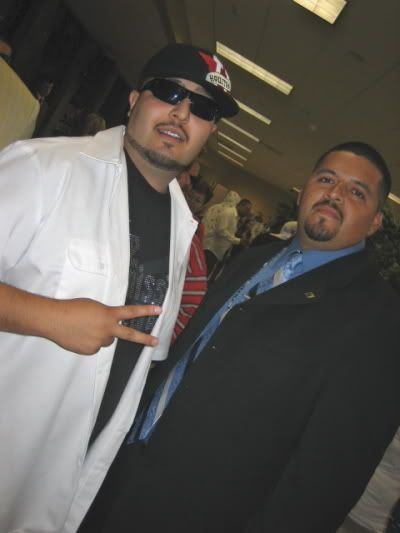 Ras & wife Angie
Mark J, Jay May, S.O.C.O.M.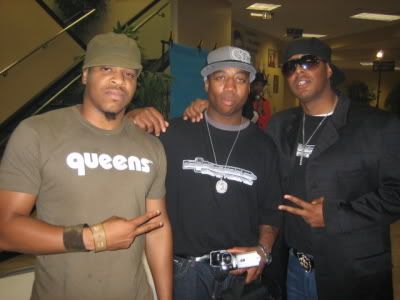 J Harrison & his girl
Special Ed interview
Soulfruit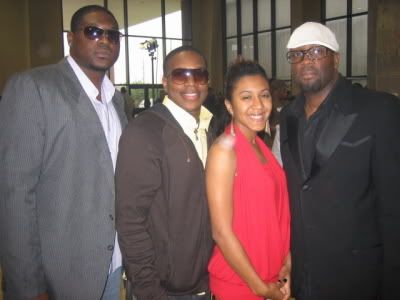 dogfight! & NuLife (Chunk up the tre?!?)
B.L.U.E and fam (from the ATX)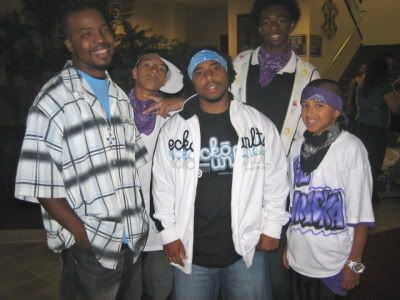 Lita Rodi gets interviewed

The Much Luvv Dynasty
As guests and audience members found their way into the darkened sanctuary they were greeted by an elaborate stage with special lighting, smoke machines, and THHHAA letters as the backdrop. To each side were large, 10-foot screens to display the multimedia introductions and videos.
The show was a mix of award presentations and artist performances. Nominees were honored in categories such as
Radio Program of the Year, CD Package of the Year, Stage Performers of the Year,
and
DJ of the Year
.
B.L.U.E takes home one of many awards
Tre9 presents awards to sponsors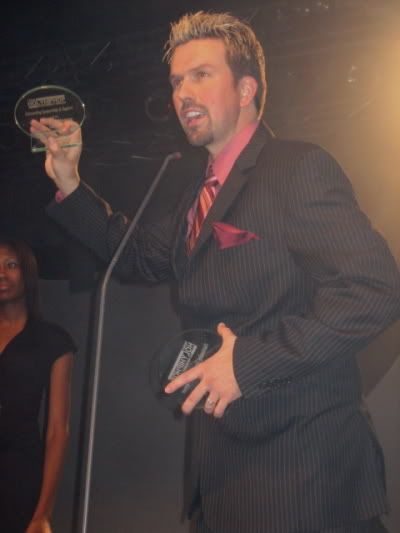 The Houston Rockets' Mike James presents with Mark J & Ras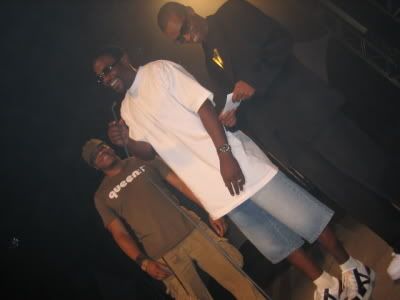 ColCutz accepts for Much Luvv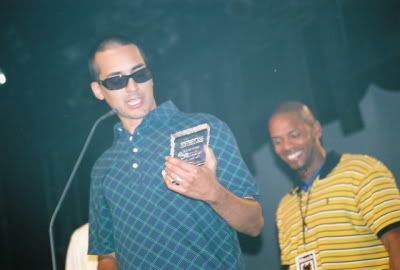 The performances in between ranged from rowdy (
S.O.C.O.M.
&
Jay May
), to R&B (
Blase
), to breakdancing (
Havikoro
), to female emcees (
Tragedy
,
Zeeda
,
Yunek
.)
J Xavier ain't Lil no more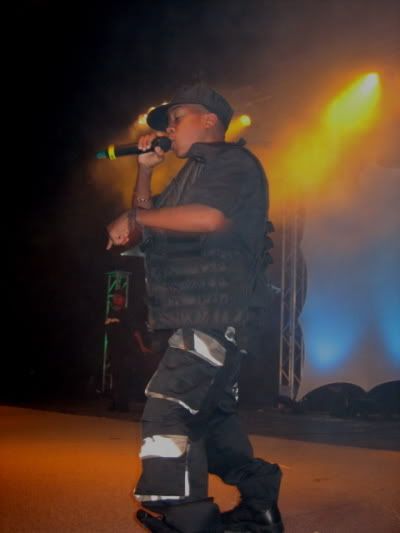 Photographers row - everybody wants a shot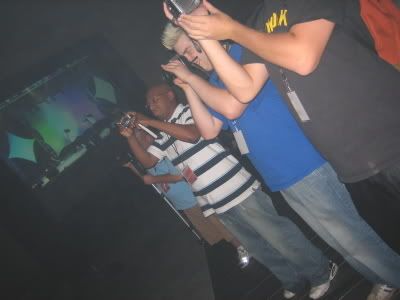 Havikoro stomps the yard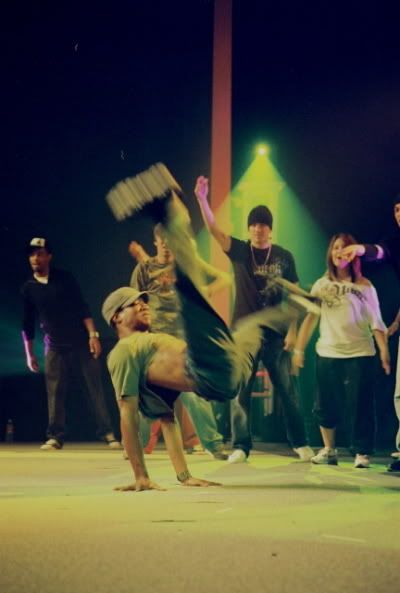 Soulfruit comes hard
One of the more memorable performances occurred early on when the thumping bassline of
Bless't
and
Enock
's "
That Jesus
" proved to be too much for the rented system and the sound went out.
Bless't

,
showing himself to be a professional, continued to sing the hook and kept the crowd involved. He finished his verses and final chorus while
DJ Wiz
took over and
Tre9
brought the camera crew out to film some audience scenes until the technology could be resurrected.
Enock & Bless't
"To be honest, my first thought was that they cut me off for some reason,"
Bless't
said. "But after the initial panic wore off I knew I had to go on. It was good that it did it right at the hook so I could keep the crowd into it. By the end they were all chanting 'We pump that Jesus / We need that Jesus' so to God be glory."
Later, a special
Pioneer Award
was presented to
Fred Lynch (aka Doug Tray)
of the Dallas-based
Preachas In Disguise

.
P.I.D. was one of the first gospel rap groups to hit the national scene and recorded six albums during their tenure. And while their fashions and rhyme styles may have changed in order to remain relevant, their message of hope in Christ was never altered. Although he might have been unknown to some of the younger audience members, Lynch's participation on this evening was certainly a highlight of the event.
Special Ed, Fred Lynch & Sway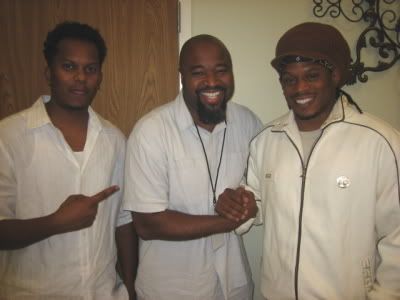 Another performance that has maintained a buzz was
CY
's "Circus World Event." The Much Luvv Records artist hit both the red carpet and the stage in a ruby ringleader's tailcoat, white gloves, and black top hat. Standing in front of a single mic stand, his rapid-fire rhymes leaped out against the backlit spotlight.
CY took us to the circus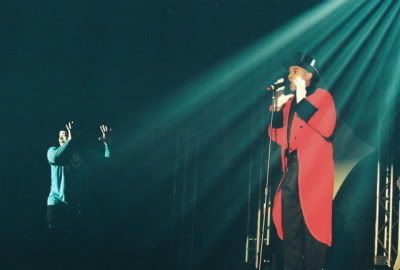 Shortly after the verse was done a mime broke the darkness on his right,
CY
started juggling tennis balls, and a crew of krump dancing clowns started dancing on his left.
If you didn't know
CY
before, you were introduced here. And if you had forgotten about
CY
, you shouldn't have. It was definitely not your average rap set and one that illustrated the depth of creativity within the holy hip hop community.
"The performances this year set a standard for our event that will remain forever," THHHAA founder and artist
Bobby "Tre9" Herring
said. "I am proud to say Texas represented well."
Tre9
is being humble here when he could easily boast about his own set with
BB Jay
and
Von Won
. The eye popping performance featured ten 20" chrome rims lining the stage and a multi-media presentation showcasing the uplifting lyrics of "Rise to the Top."
"You think it's us / but we don't shine on our own / It's by His grace that's got us ridin' on chrome"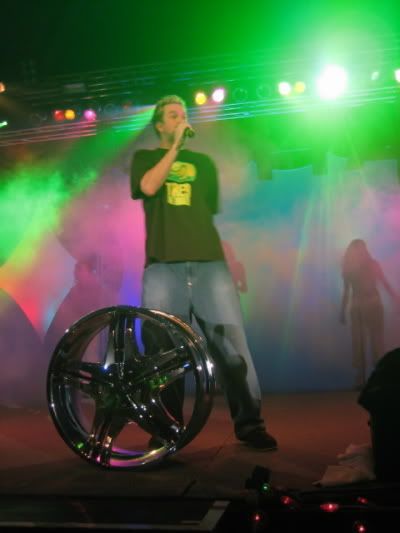 Backstage during Zeeda's performance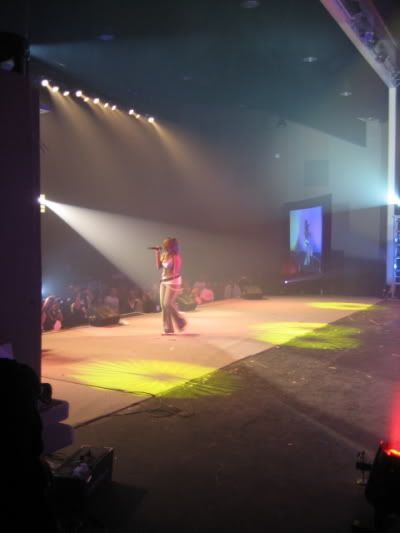 Urban D represented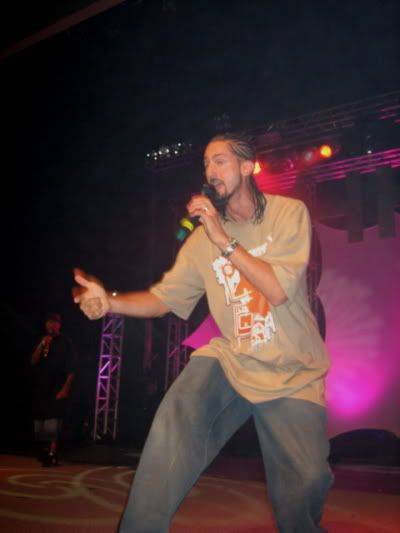 J.E. Cooper did it

Special Ed's got it made
Perhaps the most touching moment of the night came when
Sway
took to the stage to present the evening's final award. Before he announced the nominees, he took a minute to explain that he had been involved in hip hop since the 1980's and that veterans like himself often sit around and wonder what the culture is lacking.
Sway presents

With what appeared to be teary eyes he said,
"I think I've seen it here tonight."
The crowd burst into wild applause, so much that may have missed
Sway's
other golden nugget.
"The outside media should know about this," he said. "And I want to do a [news] piece on this for MTV."
"What Sway said was just phenomenal,"
Reverend LeKisha Reed
of First and Grace United Methodist Church in New Orleans, said. "I filled in the blanks when he said he knew what hip hop was missing – it's God!"
The celebration didn't stop there as the audience was directed upstairs to the church's youth center to enjoy the
Official After Party
hosted by
Mark J
and
DJ D-Lite
. Various artists performed there, enjoyed a meal, and pursued further fellowship with guests and winners.
Here's where you shop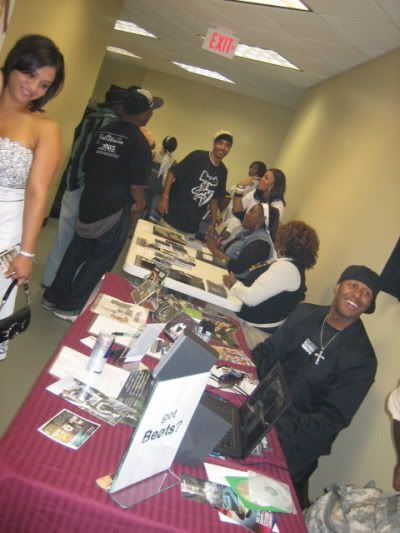 After the party it's the After Party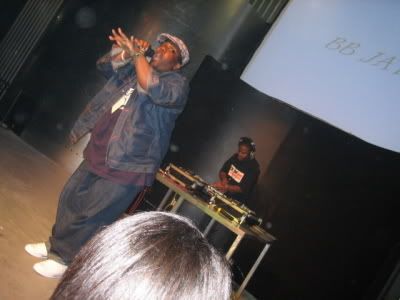 D-Lite on the wheels of steel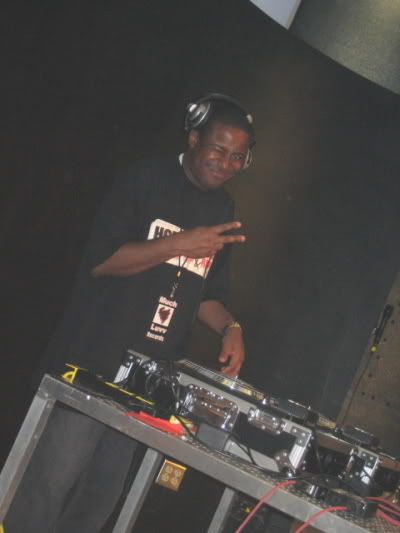 HHH vet X-Thug (C.I.A.) and Producer of the Year Levester White fellowship
Many remarked upon the great sense of unity that was felt at this year's event.
"I was really glad to see that people from Austin won so many awards,"
Bless't
said from beneath his oversized Houston Astros cap. "It's great to see that there is such quality work being done in other cities and it inspires me to make sure we do our best too."
With a final nod to the pioneers who made this music ministry possible, the doors were closed and floors were mopped. Many volunteers didn't leave until 3:30 in the morning but all had smiles on their faces knowing they helped make history at the last Holy Hip Hop Awards to specifically honor Texans. Next year's focus will be nationwide and there is a post-awards celebration cruise to go with it.
If it maintains the unity, professionalism, and excellence of this year's event, be prepared for another unforgettable weekend.
Sketch's little brother, Mrs. Sketch, mom, & pops (aka Skitch Bellini)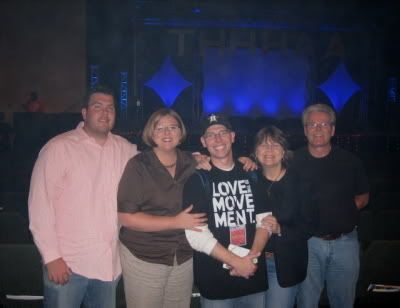 Find all the winners here.Videos:
Speedy Gunnz video review
Soulfruit set