Children, obey your parents in the Lord, for this is right. "Honor your father and mother"' – which is the first commandment with a promise – "that it may go well with you and that you may enjoy long life on earth." – Ephesians 6:1 (NIV)
When was the last time you heard a rap song encouraging you to obey a command besides "Put your hands up!" and to follow the direction and correction of your parents?
Possibly never.
To fill that void gospel emcee
CY
tenders his track, "Obedience - Godparents" on the
Rap Fest Presents Volume II
that was offered as a
free download
on December 23.
The song not only reinforces Biblical calls for obedience, but provides a relatable subject matter for even the youngest Christian rap fan.
"Sometimes the little kids get forgotten, even in holy hip hop," CY said. "They often hear mature content because we've got guys spittin' raw and they can get exposed to issues and topics they shouldn't have to deal with at their age."
He said he specifically wanted to reach out to children with this song so that when they go to concerts and buy CDs they'll have something that speaks to them.
"The subject matter of the song also relates to adults as well," CY said. "I was fortunate to have good parents growing up, and to this day, I can still hear their words echoing in my head about things I should and should not do.
"It's still up to me, even now, to obey what I was taught as a child and live by that wisdom. Those who had the luxury of having good parents who feared the Lord know what I'm talking about."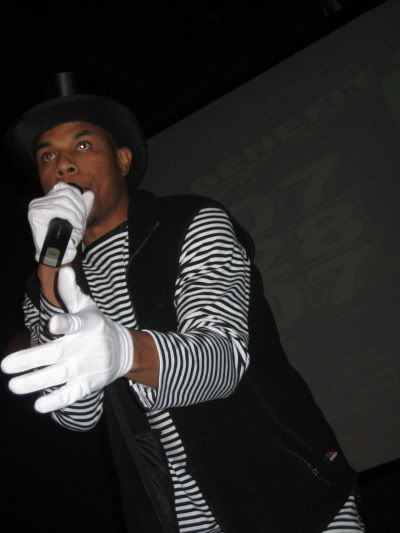 Photo by Sketch the Journalist
CY was invited to be on the compilation by
Bert Bocachica
of Rap Fest Inc. after establishing a relationship with him through the New York-based annual ministry event of the same name and follow-up contact.
Rap Fest organized this second volume of Christian rap songs with various producers and recording artists. The album has 38 tracks and received nearly 5,000 complete downloads from
Illspot.ne
t within the first two weeks.
Bocachica said the digital delivery method allows Rap Fest to reduce production costs and provides them with an easy way to share the Gospel free of charge. The ministry also openly encourages fans to copy and share the album with others so undoubtedly the message music is reaching more ears than can be reasonably accounted for from a single distribution outlet.
The song's beat was produced by Rolando "3D Remedy" Remedios of Evolution Musik from Staten Island, NY. CY recorded it in Houston, Texas with featured verses from Much Luvv's
Von Won
and additional vocals by his wife
Gina
.
Bocachica commended the song's level of musical and spiritual integrity, saying it "can only be applauded by other ministers of the Gospel, not just in hip hop, but everywhere." He also talked about the relevance of the subject matter.
"What if we were all obedient to our parents and, more importantly, to God? What a better world this would be. Obedience is one aspect in life 'we' have total control over. We either obey or not and face the consequences and or benefits accordingly," Bocachica said.
"I can only wish and hope that everyone would take heed to the words and message of the song. Trust me, I am a parent of three teenagers… obedience is always a concern."
CY said he also wanted to use the last verse of the song to provide evidence of God's truth to non-believers.
Playing off the homonyms "sun" and "Son" (referring to Jesus as God's child), CY uses an analogy of a plant that needs the sun to grow and live, much like we need the Son to do the same.
"God is truly our parent. He's the one that created us and provided, not only His word, but means through Creation to teach us His ways," CY said.
Download your
free copy
of Rap Fest Presents Volume II
here
.