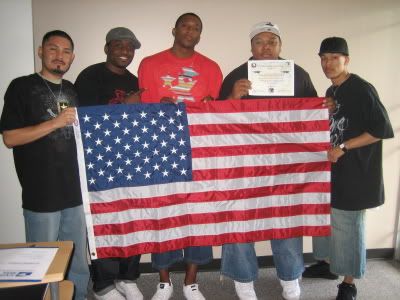 Primo, Sho Baraka, Lecrae, Tedashii, and Trip Lee @ 4930 Studios

I've got tons of photos and notes I still need to post up from
Sunday night's 116 Clique show
, but I just gotta share this special flick from Monday.
DJ Primo
, who chopped and screwed the
116's first collective project
, not too long ago returned to Houston from his second tour of duty with the U.S. Army and was able to present the crew with an American flag that flew overseas in Afghanistan.
How dope is that?
Next time you see the
King of Christian Chop-N-Screw
be sure to tell him how much you appreciate his service and sacrifice in our armed forces.
UPDATE (06/13/08):
Here's an image of the certificate.
Click
here
for larger image.