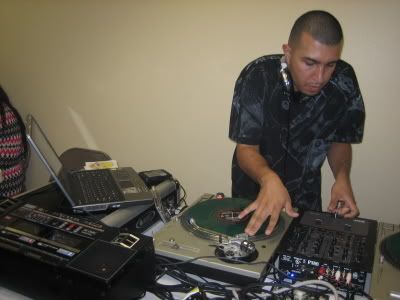 Promote's hallway open mic party at the AEOM Awards - Photo by Sketch the Journalist
Well, he's not actually working ON this thing called the Internet (although it could use some improvements), but you can watch him recording and scratching stuff for the new Kaboose record.
Peep it live via the Syntax Records community site (
http://www.cafesyntax.com/
) and Justin.tv each day this week roughly after lunchtime Texas time.
Here's the
linkage
.
While you're there, do yourself a favor and download his killer
"Stick This In Your Ear"
mixtape for FREE from Datpiff.com.
BTW, my
All Eyes On Me Awards
recap (with lots of photos) is coming soon. I'm still resizing, renaming, and uploading photos in addition to catching up on a lot of lost sleep.