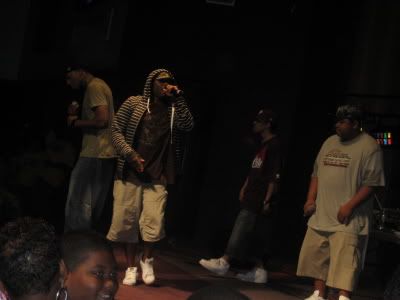 A week ago this eve
Reach Records' 116 Clique's "Unashamed Tour"
rolled through H-town to
Living Word Fellowship Church
and delivered a fantastic night of Southern styled g-rap and worship.
The crew consisted of
Lecrae, Tedashii, Trip Lee, Sho Baraka
, hip hop R&B slanger
Cam
,
DJ Official
, and band (drummer, guitar, and bass).
I've only seen Crae and Trip once (separately), but have to say they've upped their game. Before, I felt there was an imbalance of song time to message time. Earlier in their careers, both guys seemed to do one three minute song then deliver five to ten minutes of speaking and then another song or two and another speaking point. I never felt they "earned my ear" – until now.
This show is definitely more polished. The guys hit the stage with fierceness, switch in and out of acts and songs smoothly, and maintain a very high energy level throughout the show.
As such, when it came time for T-Dot to bring the Word at the end, I was more apt to listen because they delivered on their promise of entertainment (after all, it IS a concert tour) and built a level of respect with their audience.
Seriously, these boys seem to really be hitting their sweet spot as far as hip hop music ministry is concerned. Be sure to check 'em out if you get the chance.
On with the recap photos and rundown: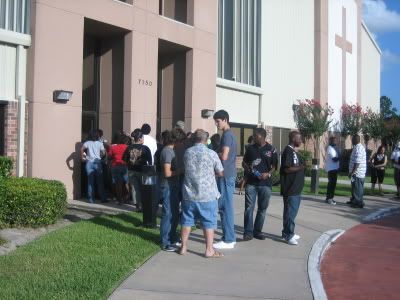 Pre-show info said the doors were to open at 6pm and that the event would start at 6:30pm. Unfortunately that didn't happen and people weren't let into the venue until about 6:45pm. I believe a sound check ran late so the doors remained closed and many of us had to wait outside in the great summer heat. Oh well, it was a good time to pub the
All Eyes On Me Awards
by passing out flyers to a captive target audience.
116 affiliate Cam opened the show and set the tone for a nice evening. I had been wanting to pick up his latest album, "The Platform", for a while and snagged a copy for $10 at the show.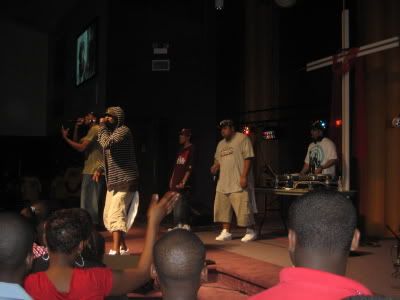 After Cam, the whole team hit the stage to perform "Unshamed" – natch!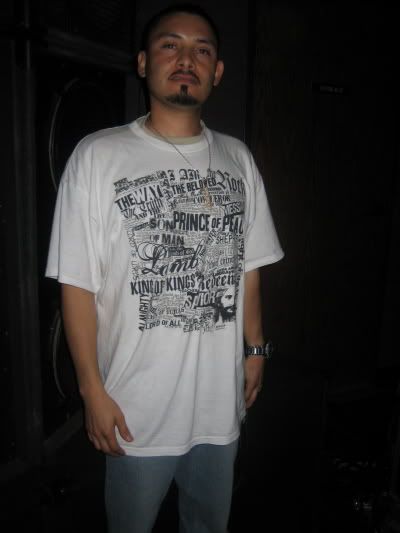 DJ Primo
, who chopped and screwed
116's first compilation album
, was in the building with his wife and baby girl. The following day he caught up with the crew and
presented them with a U.S. flag
he got when he was serving in the Army in Afghanistan.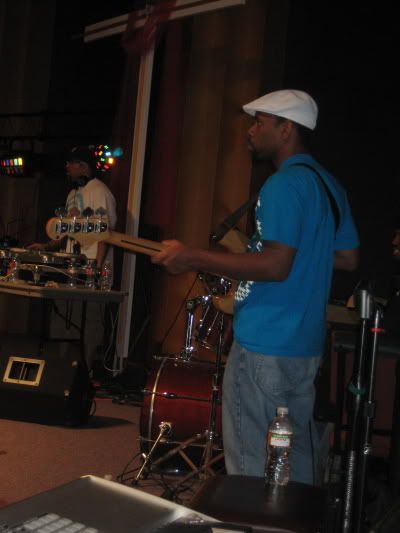 DJ Official and the bass player. Rap crews take note: A live band takes your set to a whole nutha level.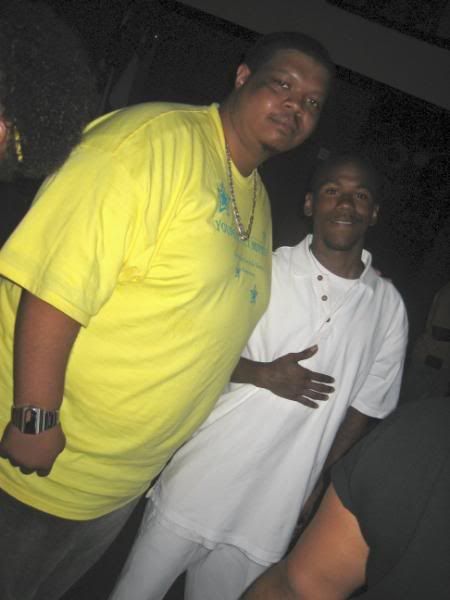 NuLife
and friend. This was dude's home church so he was grinning ear to ear knowing how his community repped and supported solid Christian hip hop.
Rob Phat
and
Testimony
dogfight!
sporting his fresh new gear. Others in the crowd were:
DJ Ovadose, Sypreme, Corey da Child of Christ, the Paul family
,
apokalum
, and
Dante'
the filmmaker.
Sho Baraka made some new fans that night.
Tedashii said it was good to be back home (Houston) and asked for a hearty "Already" from the crowd.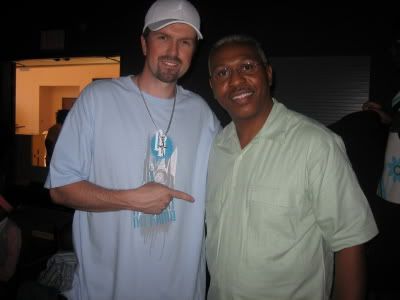 Tre9 and Pastor Cannings
Lecrae brought out a new song called "Hands High" and asked for dancers in the crowd to show a little restraint when he got to the "get low" chorus.
Later in the night he mentioned something from the stage that I don't know if many people caught. In explaining the importance of the message and the group's desire for humility, Lecrae said that none of the guys really needed the spotlight of the stage. "I don't need to be up here," he said, making himself a particular example. Then he said his wife had been driving down to the show from Dallas when she got into an accident and her car had flipped over several times. She's also 3 months pregnant.
No other details were given from the stage and when I asked the group's tour manager about it the next day he said Crae wasn't ready to make a public comment but did ask for our prayers. I also spoke to Crae on Monday and he seemed fine so I assume his wife is okay. However, it's a sobering reminder to keep these artists and their families in prayer – particularly when they are on the road.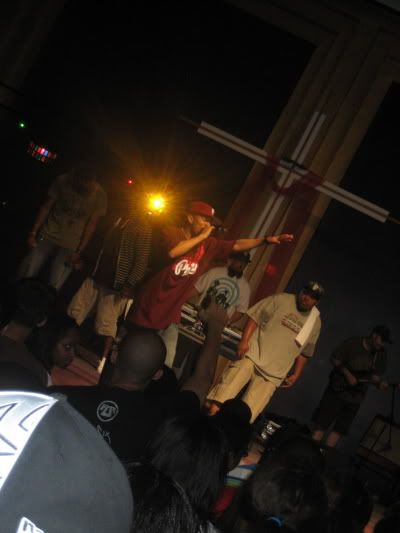 Trip Lee hit "Superstar" from "
20/20
" and really got the crowd going.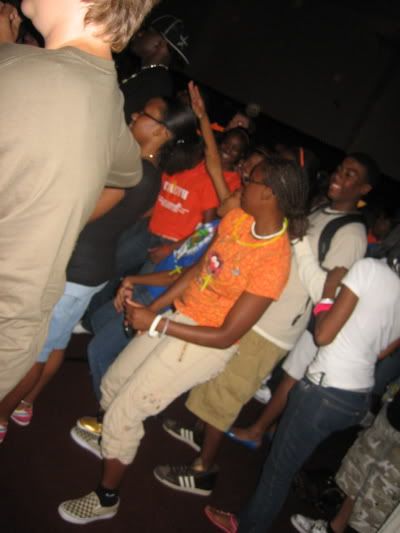 As you can see, the youth groups were feelin' it.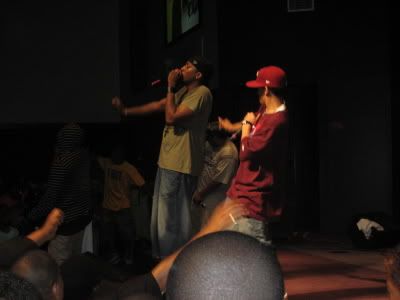 And you had to know the audience would go nuts for "
Jesus Muzik
."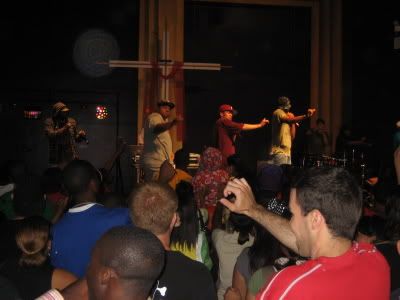 Everybody's "big wheelin'" it during that track.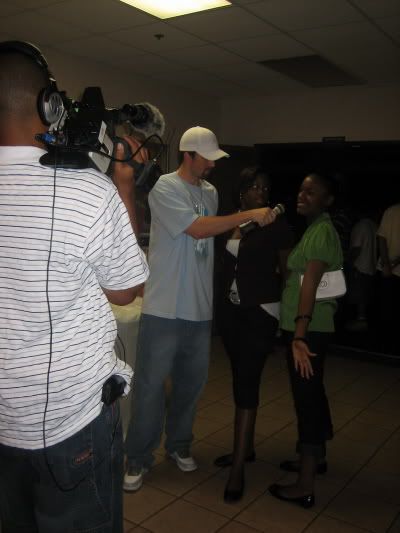 Tre9 interviewed kids in the crowd for his "All Eyes On Houston" segment for
Global Force TV
.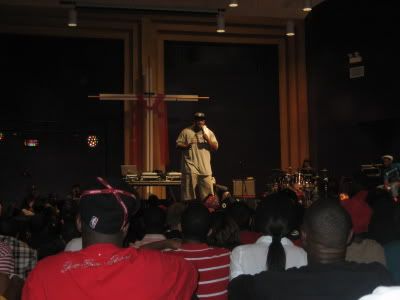 At the end of the night T-Dot took the mic and asked for the house lights to be raised and for the audience to sit down on the floor. His message and altar call were short and sweet (maybe 15 minutes) but very on point.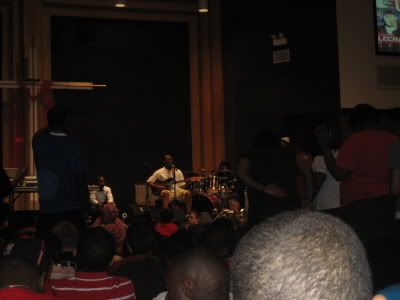 Following the message, Cam came out to lead us in vertical praise with "I Worship You."
On the way out, everyone wanted to grab a tee, an album, or a
John Piper
book as well as meet the 116 Team.
To find out when the Unashamed Tour will hit your town, click
here
and GO!