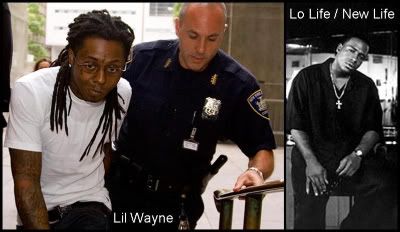 Saturday night I was at
007
's
Audio Future
album release party and
interviewed
his former rhyme partner
E-Rock
.
During our conversation E told me that
Lo Life
, the other member of their
5th Ward Boyz
trio, was still in prison but now a believer. He said the brother changed his name to
New Life
, is pursuing Christian rap, and recently held a concert inside the walls where 213 inmates showed up and 85 had to be turned away due to a lack of security.
This sparked something in me and I remembered the verse of Scripture from
Hebrews 13:3
which says:
Remember those in prison as if you were their fellow prisoners, and those who are mistreated as if you yourselves were suffering.
I wanted to get New Life's address so I could write and encourage him. Then on Monday, 007 hit me with the mailing address and about an hour later I saw that
FLAME
sent out
this Tweet
about rallying the Christian hip hop community to write to
Lil Wayne while he is locked away
.
God is moving and I want to get on board.
So why don't we start the
CHH Kites Program
? ("
Kite
" is street slang for correspondence received while incarcerated.)
Let's send these two brothers all kinds of mail that uplifts and shares the love of Christ.
Don't ask for autographs, record deals, or for the dudes to check out your music. Break 'em off with a good word from the Word, tell them that we're looking forward to seeing them on the outside, and share a little bit about what being a follower of Jesus has done in your own life.
Here are their addresses. Now go pick up a pad and pen.
Lil Wayne


Eric M. Taylor Center (EMTC)
Dwayne Carter
NYSID# 02616544
L10-10 Hazen Street East
Elmhurst, NY 11370
NewLife formally LoLife of the 5th Ward Boyz
Richard Nash Jr
1303820 One Circle Drive
Sugar Land, TX 77498
If you know of any other MCs on lock that could use encouragement, please send me their addresses and I'll help get the word out.