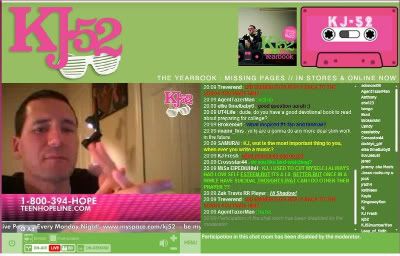 Did you know that each Monday night
KJ-52
has a live video chat?
Always a techy early adopter, Tweezy has now combined his weekly audio podcast and video devotionals into a more personal, interactive web feed.
In these sessions KJ answers fan questions, participates in the chat, and leaks new music and videos. To get in on the action, point your browser to
www.mogulus.com/kj52
on
Monday nights at 8:30 pm Eastern Standard Time
.
All this week (not just Mondays) the stream will be showing KJ in the
Tooth & Nail
studios in Seattle, Washington with super-producer
Aaron Sprinkle
. They'll be working on KJ's next album conveniently titled
"52 Television."
And, I spoke to KJ tonight and he told me this Mogulus video stream may be the future of the viewable 52 Televison show.
He plans to get his church's production team behind him which will improve both the visual quality of the episodes and provide additional wisdom to help answer the tough spiritual questions and issues that arise from the live chats.
Be sure to check it out tomorrow eve and catch replays any time by visiting:
www.mogulus.com/kj52