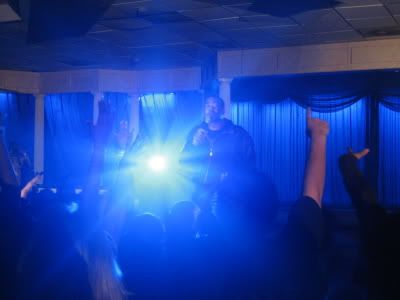 Photo by Sketch the Journalist
Last week I had the pleasure of hitting two top-notch Christian hip hop shows in two nights. Both reschedules due to Hurricane Ike, I was able to catch
Canton Jones on a Thursday
and
KJ-52 on a Friday
. Such is the advantage of living near a major city.
To start, I have to say the Canton show surprised me. For one, I wasn't that familiar with his music. My main exposure has been via the stuff
Wade-O
has played and the
"Kingdom Business"
album I received as a Christmas gift. And of course, I also had my mind cluttered with mess I'd read about CaJo on Christian rap message boards.
And I have to admit that I misjudged the dude. Honestly, I expected a big ego and lots of lots of money talk. Instead, I saw a genuinely funny guy that knows how to put on a performance, lead worship, and spend time with his fans.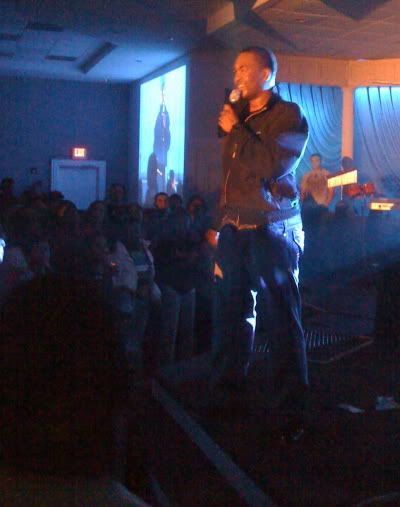 Photo by Sketch the Journalist
My man spent a good hour knocking out his hits, mixing in some familiar beats, and then really helping the audience engage in vertical communion with their Creator.
Photo by Sketch the Journalist

At one point, he took a bunch of mainstream beats and flipped them into worship tracks. Normally this would strike me as a corny crutch. But CaJo cut the secular sounds off quickly and totally redirected the songs. The blend from
T.I.'s "Whatcha Know About That"
to
"Awesome God"
was particularly well done.
And at the end, he spoke his heart and shared the Gospel. Three young people ventured forth to say they made a decision to follow Christ and Jones closed the show by joining the crowd in a grimy circle hop to "Give U What U Want" and did fan meet and greets afterward.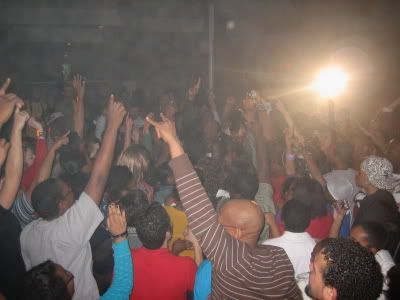 Photo by Sketch the Journalist
Would I co-sign with everything he did and said from stage? Maybe not – but how often do I do that with
anybody
?
In the end I was thoroughly impressed and very glad I was able to check him out in person and not rely on second hand opinions that clouded my judgment.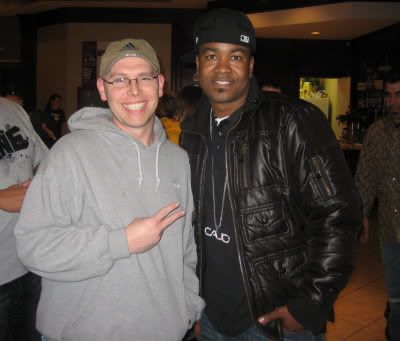 Sketch & CaJo after the show
Setlist
A Milli intro
The Password: Jesus w/ "Planet Rock" remix
The Professional
5 Seconds
Hater Day
Stay Saved
Love Song
Worship remix: I'm So Hood / He's So Good
Worship remix: Whatcha Know About That / Awesome God
Worship remix: Flashing Lights / I Love You Jesus (?)
Awesome God
What You Want
Additional photos: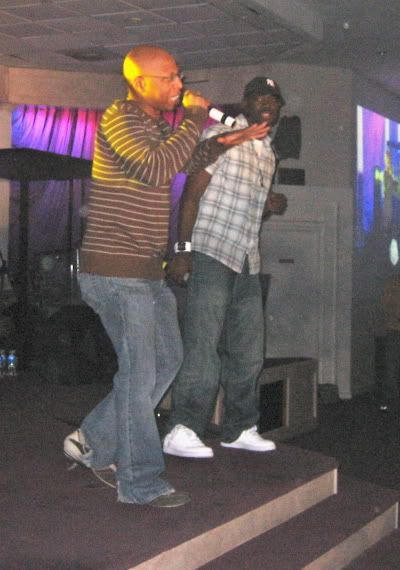 Hosted by fellow CHH writer & SHSU alumnus: Dwayne Lacy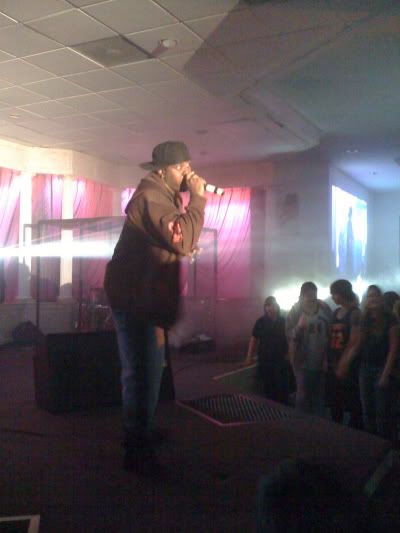 Opening act Beezy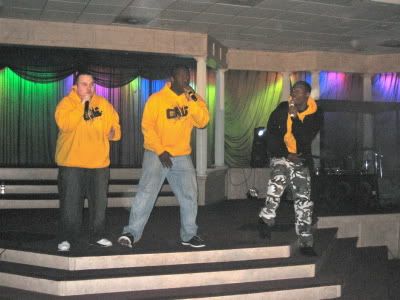 Other openers: CNE (Christ N Entertainment)

CaJo on stage