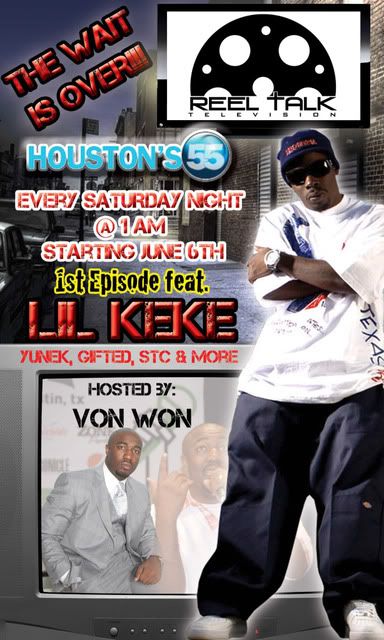 Von Won
let me know that the first episode of his
Reel Talk TV
will air this weekend. H-town's
Lil Keke
is on the premiere along with
Yunek, Gifted, STC, and Big Al
.
Here are the details:
Channel 55 - The Tube (will also be on DaSouth.com soon)
Saturday, June 6 - 1am
Von tells me he'll feature interviews and Christian rap music videos. It's an over-the-air network so prisons and families without cable access will be able to get a much more positive alternative to the HOT TV mainstream rap show that airs just before it. And at the end of each episode, Von says there will be an invitation for viewers to give their lives to Christ.
This weekly show could use your support. Please view, pray, and consider giving to Reel Talk TV.
Contact
REELTALKWORLDWIDE@GMAIL.COM
for more details.
Unfortunately, Von will miss his own debut as he's on
the U.K. missions tour
with Tre9 and team. But that's what DVRs are for, right?
Also, be sure to check in next week to see
S.O.M.'s
video for "You Don't Know Me Like That" in which I have a cameo.