I recently had a chance to do a quick e-mail Q&A with
Gifted Da Flamethrowa
. His heater
Street Symphony
drops tomorrow on Much Luvv Records.
Enjoy.
S: Can you briefly share how you came to be a follower of Jesus?
G: I was tired of me Sketch. I was living my life at 1,000 miles per second. I survived two car accidents where I was loaded and drunk and had a bullet to my face. In 1999 my brother, and now pastor, Mukes invited me to a service. The man of God spoke into my life prophetically and from that point I never left. God opened my eyes and my heart.
S: What is your history with rap music?
G: I started rapping in the 3rd grade. I was like 8 or 9. I received my first contract offer at 11 years old from a local company. It didn't work out. I was super young and unfocused. Years later, I went with the prominent local label Take Fo' Records, as a writer and choreographer.
From there I signed with Smoke 1 Records, the first label to do a joint venture with No Limit Records/Priority. In 2000, I got serious about serving Christ, we turned Smoke 1 into Bound 4 Glory Records and I have been running for God ever since.
S: What was the first Christian hip hop you heard and what did you think of it?
G: It was the early 90's and my grandma bought me a
dc talk
tape, no disrespect, but it was not what was popping.
S: What sparked you to rhyme for Christ?
G: Well my wife, at the time my girlfriend, Zeeda, we were in church. The pastor asked her to do a "Christian" rap for a youth event. She told me and I laughed at her, but when she spit the verse for me, it was off the chain. So I wrote one too. From there I just kept at it.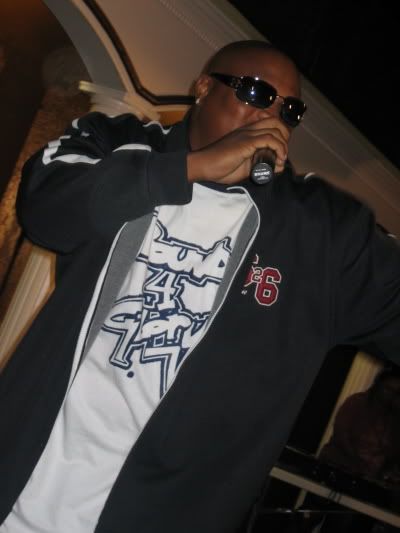 Photo by Sketch the Journalist
S: Tell us about how you came to be a part of the Houston gospel rap scene.
G: Hurricane Katrina dude. She came through and turned my life upside down. I landed in Houston and was living in a FEMA-funded hotel feeding my kids out of an ice chest. We were surviving on a faith and a prayer and God has been faithful. I give him glory for his protection and guidance.
S: What is the current status of Bound 4 Glory Records?
G: Right now we are focusing on the ministry aspect. The CEO Mukes is now an ordained pastor and our church is at 4508 Hwy 6 Houston,Tx 77084.
Prozperad
has his CD out,
Blood Bought,
and my Queen,
Zeeda
, has two out:
Breakthru
and
Destined 4 Greatness
. She is presently working a book
From Pain 2 Power
. My son
Y.A.
is working on his project now.
S: Why did you decide to do a solo album with Much Luvv Records?
G: Well since I landed in Houston
Tre9
just embraced us. He introduced me to his connects and even put me on shows with him. So our relationship is four years in the making. He offered me a deal, Pastor Mukes signed off on it, and that was that. Tre is 100 - his heart is for the elevation of the kingdom and people.
S: How do you respond to people to assume you're just riding the Lil Wayne gravy train?
G: I laugh because our grind is totally opposite. We may sound alike at times because of the N.O. accent, but that's it. My style and flow is mine baby. No mimicking here!
S: I know that you're involved in a ministry to the homeless. Tell us what that looks like and what you've learned from it.
G: Man that's a
Von Won
thing. He invited me out the first time and it was a blessing. It's no glory in that, feel me? You are looking pain eye to eye. Ain't no superstars out there, ya heard me? That's a true battle ground and I am honored to be apart of it.
Von really has a heart for God. We do it on Thursday nights. I'm not there every Thursday, but they hold it down.
S: You were also a part of the Hip Hop Hope UK Tour. How was your experience over there? Any specific stories/memories you care to share?
G: It was bitter sweet Sketch.
Sweet, because my ten toes stood in places where I could only dream of as a shorty. Bitter because it's so much pain out there. The kids just walk around like zombies and most of the adults just ignore them. The church has a great work to do over there.
I can't wait to go back. I really connected with a lot of people out there Sketch. I have been ministering to a bunch of the kids via Facebook and many of them decided to join a church.
One young lady used to cut herself when she was depressed, but now she has stopped doing that. Glory to God man.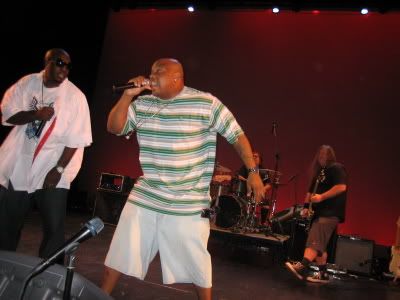 Photo by Sketch the Journalist
S: Some people might be surprised to find out that a Southern rapper like your self has also performed sets with punk rock type groups like the Shiny Darks. Why switch up your sound like that? How has it been received?
G: Because I am an artist Sketch, not a rapper. I refuse to be put in a box feel me. I love music: hip hop, opera, classical, country, rock etc.
How has it been received? Man it's been off the chain. At our last concert people was in that joker crowd surfing!
S: Your new album has a lot of guest features and you've done many guest features for other artists as well. Why do you pursue such collaborative works? How has that process been for you?
G: I pursue it because I feel our greatest problem in HHH is unity. Everybody is busy building their little kingdoms and forgetting we are supposed to be one body in Christ.
I could get
Lil Wayne
with one phone call. I can't afford him, but he is accessible. But there are some of my brothers in Christ that you could hit up and wouldn't get a response.
I show love Sketch. In my portfolio I have done over 50 collabs. From the big dogs like
Bushwick Bill
and
Bishop Lester Love
to that lil cat in southside Houston that has never gotten a booking before. It's been a blessing to me, but it irritates me when you reach out to some cats and they ignore you. That's not a kingdom mindset, it's arrogance.
S: How do you feel that
Street Symphony
is different from your first album?
G:
Street Symphony
is deeper than
And So it Begins
. I was more personal on
Street Symphony
and I experimented more. I also added
Drathoven, Doc Sizzo, k-Drama, Bruce Bang, Sypreme
,
Kadence
of ATP and more cats to my production arsenal. This bought it home.
Photo by Sketch the Journalist
S: Your wife Zeeda is also a Christian rapper and your teenage son has skills as well. How do you deal with a family full of urban music missionaries?
G: That is honestly my secret weapon. My wife is a monster. She was rated by
Murder Dog
magazine as one of the top 10 female rappers of all time along with
Foxy Brown
and
Lil Kim
. So having her there to bounce ideas off of is a plus. Then my shorty Y.A keeps me current.
S: On your Twitter account, I've seen you discuss your schedule and really being "in the streets." What type of things are you doing "in the streets?"
G: That's me Sketch. I have a concrete pulpit, family. I'm hitting secular events, clubs, open mics, prisons, boot camps, and Wal-Marts etc.
On Nov.22 Much Luvv is invading the Los Magnificos car show here in Houston with
Omarion
,
Slick Rick, Charlie Boi
and more. We are taking the word of God mainstream and we're going head first, no compromise.
S: You've also taken other rappers (Christian and secular) to task for not doing the same. Why do you think they aren't in the same places you are?
G: Because my walk is my walk, some are called to certain areas and I respect that. I know where God is sending me.
I feel like more HHH cats need to go mainstream, not changing content, just changing venues. As far as secular cats, it's time for someone to hold there feet to the fire. While they are saying how much cash you'll make selling coke, I am going to tell the other side of the story. How you get years in a cage or even worse: murdered.
S: You recently attended the memorial services for Juan "Enock" James. Tell me about that experience. How would you like Gifted to be remembered?
G: It was sad man. We lost a "SOULjah" Sketch and they lost a husband, father, and a son, feel me? But when his wife started to read his journal, I really got a glimpse into his heart man. That cat was pure and really after righteousness. He is my hero. I want to be remembered as a genuine person, an honest cat who loved God, his family, his friends and his music.
S: What do you want someone to get out of your new
Street Symphony
album?
G: I want them to be inspired, informed, entertained, encouraged, and above all, led to the savior JESUS CHRIST.
www.flamethrowa.com
www.myspace.com/iamgifted
www.twitter.com/daflamethrowa
www.youtube.com/gifteddaflamethrowa