I'll have to take a late pass on this blog, but think there's still value in showing you what
Tre9
's
Hip Hop Hope Tuesdays
events look like.
The relationship between Tre and
Rap-A-Lot Records
'
Prince Complex
in Houston's 5th Ward neighborhood started this spring
with the Hip Hop Hope Family Fun Day
. From there, it blossomed into a summer-long outreach that has carried on into the school year.
So here are a few flix and videos that reflect the look and feel of the nights. You can learn more about it by visiting Tre's
Hip Hop Missions blog
where you'll find video clips and rundowns of his recent work.
All photos by Sketch the Journalist
Each night a Christian hip hop artist or crew will perform and share their story. On this evening it was
Von Won
's Sheep in Wolves Clothing crew.
There's also an intro "icebreaker" game which kids moving around, engaged, and the chance to win Christian hip hop CDs.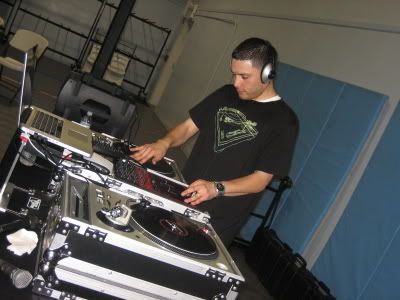 DJ Primo
not only spins the music, but also brings the Word with a special chopped and screwed mix of audio Scripture.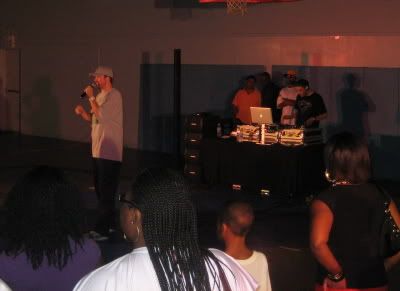 Tre9
keeps things moving and will act as the night's MC.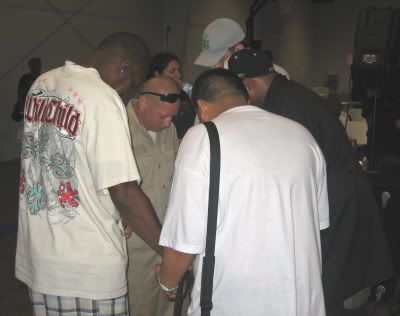 Artists and volunteers are always down with pray with people.
On this night, mainstream hip hop video show
"Street Flava with D-Solo"
(in the yellow H-town cap) stopped by to film a segment for a future episode.
Special guests like
Bushwick Bill
will also occasionally pop-in.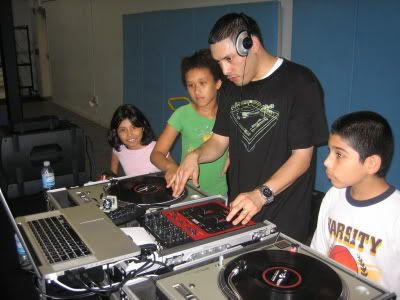 Primo
is always down to share and show kids how he practices his craft.
Here's a video of
Trevor Lee
performing "Do It His Way."
And here's a clip of
Zeeda
giving her testimony.