B.L.U.E kicked off the day with a great set
DaSouth.com has my full recap and photo album, but here's your teaser, link, and some of the choicest flix.
Christian hip hop explored new territory on March 21, 2009 with the first ever gospel rap showcase at the SXSW Festival in Austin, Texas.

South by Southwest (SXSW) is the premier Austin-based company dedicated to building and delivering conference and festival events for entertainment and related media industry professionals. Each March it draws nearly 12,000 registrants from all over the globe.

This year Much Luvv Records' Bobby "Tre9" Herring and Jason "Sketch the Journalist" Bellini were personally offered the opportunity to create the urban gospel stage by Matt Sonzala, a respected independent rap promoter who is the official hip hop booker for SXSW.

Sonzala offered the George Washington Carver Museum and Cultural Center for the venue and specifically requested that rappers Dooney da Priest (Dallas, TX) and Lecrae (Memphis, TN) be a part of the program. The rest of the show's details were left up to Tre9 and Sketch.
Read the
rest
.
You can also find a lot of my instant reactions via
Twitter
.
Side note:
My wife took most of the best shots with my friend's killer cam.
Texas' Capitol City was the locale.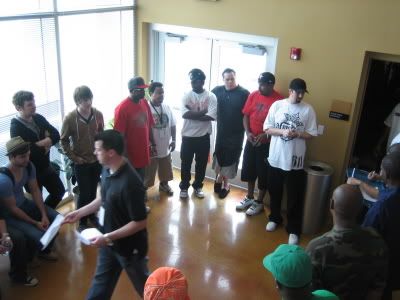 Tre9 (white shirt) & Jimmie McDowell (black shirt w/ paper) handle the pre-event meeting with all the artists
Dooney & his crew told the audience to "Pull Yo' Pants Up!"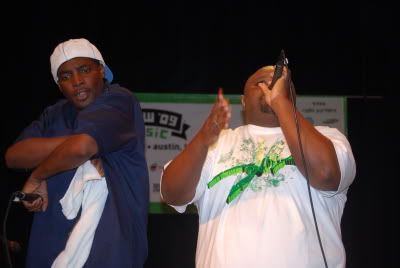 Austin's The W.A.R.R.I.O.R.S brought their people and the heat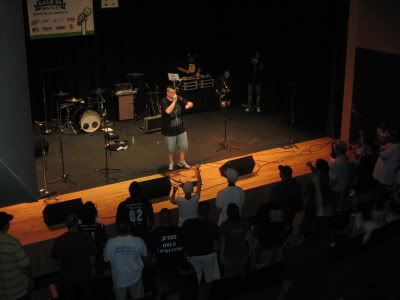 The Carver Theater was small (and steep) but we packed it out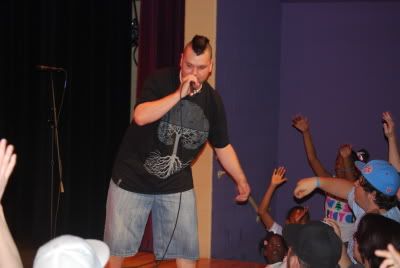 Kaboose got the crowd movin'. My favorite quote of the day came during his performance when I heard a cat in the crowd tell his boy: "Those Texas boys just rap! That's a true MC right there!"
Braille & S1 came with the full "Cloud Nineteen" set AND gave everyone in the place a FREE copy of the new album.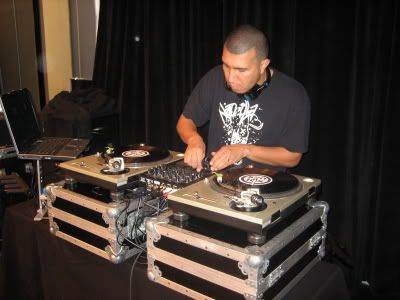 Syntax Records (and fellow Texan) DJ Promote kept things live in between sets. This dude is so much fun and so full of heart.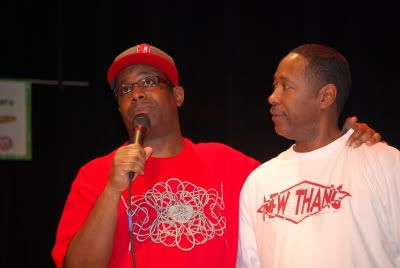 This was a cool moment when event host DJ D-Lite took time out to call Special K to the stage and honor him for his pioneering efforts in getting gospel rap played on the radio in Austin.
Former 5th Ward Boy 007 looking fierce as he shared his testimony of Christian life-change through some new lyrics.
Gifted & Von Won having fun with a tag-team set.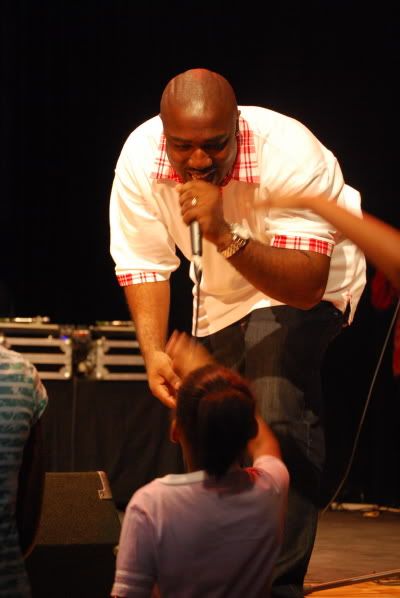 Von Won is all about the kids.

My wife and I thought this stage tech looked a lot like
Dwight Schrute
from "The Office."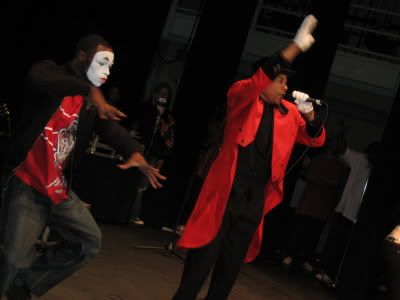 CY brought the whole "Circus" theme to his set.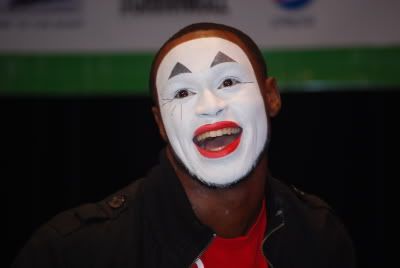 One of CY's crumpin' clowns.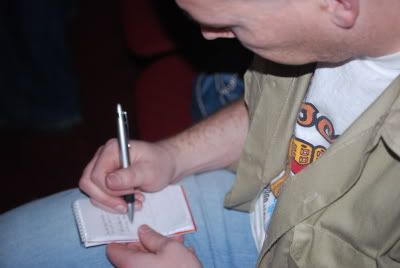 A moment when I wasn't Tweeting or takin' pics - otherwise known as "A Journalist on His Job."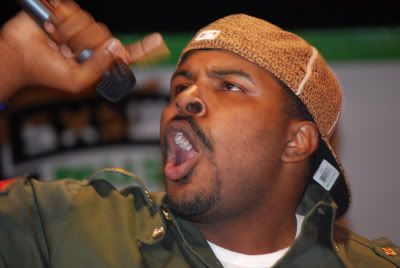 Up close & personal with S.O.M.'s Chizzle. I think I see his fillings.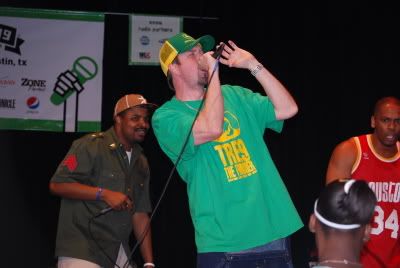 Tre9 & the Much Luvv Fam asking for a hollaback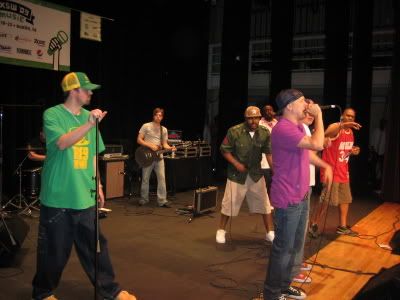 Tre busted out several songs with rock group Laden. A live band adds SO MUCH to a show.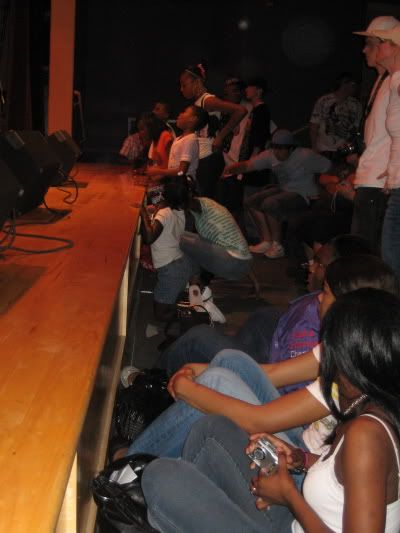 Here's a moment when the crowd had to be re-adjusted. The place was packed and people actually had to be turned away at the door. Thankfully, they relented just before the Much Luvv & Lecrae performances and allowed more people into the building and right in front of the stage.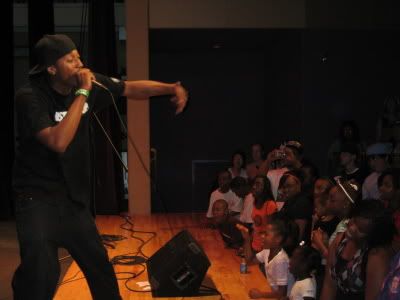 Lecrae definitely brought the heat through song and Word. People were mos def feelin' the "Jesus Muzik."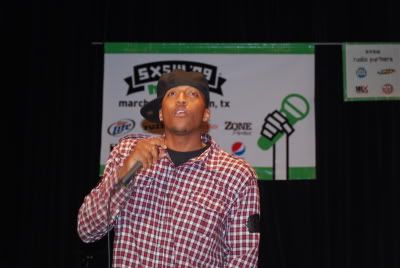 Lecrae was specifically requested by SXSW for this event and we were so glad he was able to make it.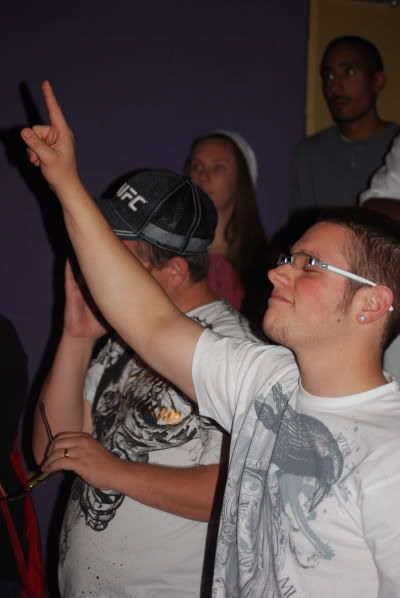 The crowd got in some worship during Much Luvv & Laden's performance of "Closer" and at other points throughout the day.
Lecrae even stepped over to kick off the After Party since he heard many people couldn't get into the Carver Theater to see all the sets.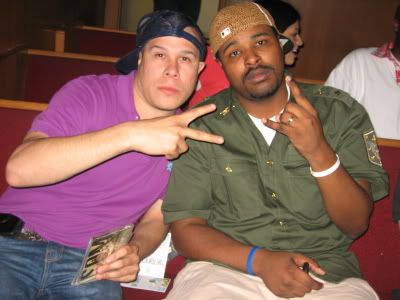 One half of S.O.M. chilling at the After Party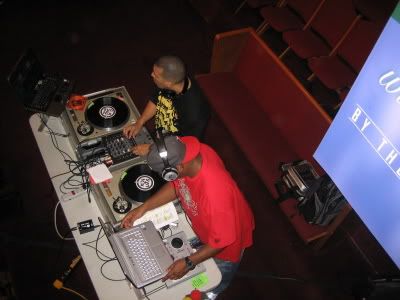 DJs Promote & D-Lite setting up at the After Party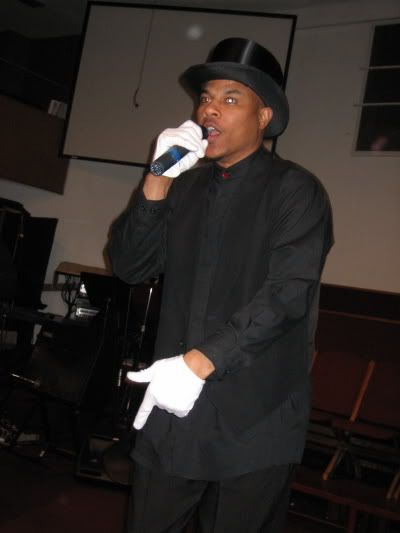 CY's restrained After Party Circus show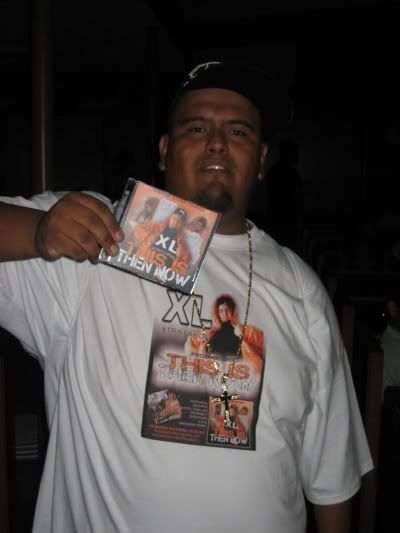 I got to meet the big homie XL who wants you to pick up his new "This Is Then Now" project.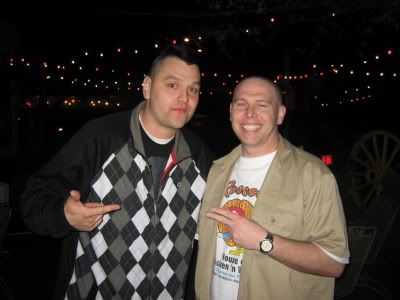 My first time meeting Kaboose as well. The dude made it down from Minnesota and was super-cool. So glad to have him with us for the first SXSW jump-off too.