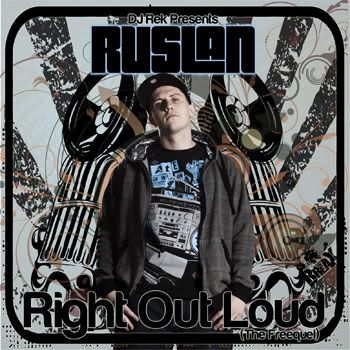 Ruslan
of
theBREAX
dropped this FREE mixtape gem a while back and I absolutely love it. Here are 5 reasons why.
1. It uses a real DJ.
How many "mixtapes" have you heard that are nothing more than an iTunes playlist? No host, no cuts, no blends. Bump that!
Right Out Loud
features
DJ Rek
(one of the biggest secular producers from San Diego that has started the transition into doing Christian Hip Hop) who handles all of that with ease. It's such a breath of fresh air. Fans of "
Anchorman
" will love his
Ron Burgundy
(also from SD) drops too.
2. Remakes don't dominate.
Believe me, I love a good remake and know that's what a decent portion of the mixtape genre is about (see
Chamillionaire
's successful
Mixtape Messiah
series,) still, you can feel bogged down after a while, especially if it just mimics a mindless radio playlist.
Here, Rus switches between mainstream remakes ("Transform You," "How Low," "Forever,") original songs ("Nothing in Particular" and "I Can Dig It") and even some Christian hip hop retakes (
DJ Official
's "Show Off,"
Washington Projects'
"Zepher Wings," and
R-Swift's
"Chased.")
The variety is much appreciated.
3. He actually says something.
While this joint has punchlines, it's also got lines that punch.
Peep Rus' breakdown of the state of the church/CHH on "How Low," why he thinks the criticism of
The Black Eyed Peas
as a pop-sell-out is misguided (on the brilliant "All In / I Got a Feeling" mashup,) or the blessings of marriage ("Greener.")
It's nice to have a mixtape that's about something more than promoting a project or showcasing skills. This one gives you meat.
4. Ruslan's a true MC.
Ruslan's never been a swag cat or one looking to ride the next trend to radio spins. He's an MC that can rock a mic.
Catch the storytelling on "Whose Bed Is This?," the modern-day spin on the
Joseph/Potipher's Wife
story in "Zypher Wings," or his confident recitation on "Kind of a Big Deal" for proof.
5. I mentioned it's being offered for
FREE
right?
Download your copy
here
.
I also hear that a Rus' other crew,
Gallery Drive
, is dropping a fresh mixtape this Valentine's Day. Keep an eye on
kevinnottingham.com
for details.