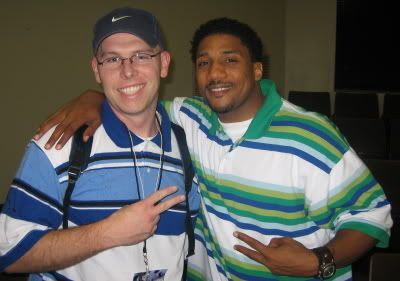 DJ Wade-O
told me about this a few weeks ago and the interview just hit iTunes this week, but apparently during his set with
Da' T.R.U.T.H.
, my man started off by saying "This is a question from Sketch..."
There was a stumble and then Da' T.R.U.T.H. asked if "Sketch" was just a character/persona that Wade played on his show.
Funny stuff.
I'm real T - I promise. :)
We met backstage when you were in town over a year ago. I
wrote it up here on my blog
and took a quick flick with you. (In your defense, you probably get asked to meet and take pics with 1,000's of cats.)
Anyway, I just thought it was humorous and Wade and I have speculated that maybe even my cartoon-ish avatar threw you off.
As you know, Wade-O's show is top notch and his conversation with Da' T.R.U.T.H. is no different.
Download the enhanced digital version of this show
here
and
subscribe via iTunes
if you can.
And T.R.U.T.H., next time you're in town let me buy you a milkshake or something and prove I'm not a ghost.