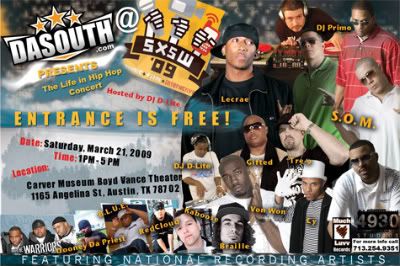 The good folks at the
Houston Calling
blog got it in with
Tre9
recently to discuss the
DaSouth.com Showcase at SXSW
.
Here's my favorite exchange from the piece:
HC: What would you say to people who ask why they should come see the showcase?
Tre9:
Because with all the bad news regarding the economy, which you are hearing in the news everyday, why would you want to go listen to other rappers bragging on how big their house it, how many women they got, and how they have so much money that they can make it rain on you. I would think people are in search of some authenticity, truth, hope, and straight up real hip hop. Our music offers that, it is one of the few venues you can watch and truly feel like what you see is what you get: absolute truth through music.
Read it in full
here
.