Here's another event photo recap from my backlog.
Up next:
Joined at the Hip Ministries'
Alpha Project
release party from
Excelsius
and
DJ 1 God
that was held on December 26, 2009.
Rescheduled
from Houston's "major" ice day earlier in the month, JATH invited friends like
Lita Rodi
,
Gifted da Flamethrowa
,
DJ D-Lite
, and
The W.A.R.R.I.O.R.S.
to celebrate with them.
Here's the rundown:
Lita Rodi
kicked things off with some new cuts off of his "Reformation" album.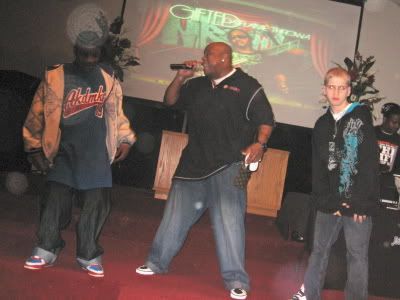 I live Tweeted the night and had just noted how hard it was to get the crowd involved in the traditional church setting when these two cats joined
Gifted
onstage for his rowdy "Want Some, Get Some" track.
Afterward, Gifted led us in worship via
William McDowell's "Give Myself Away"
song. It was wonderful.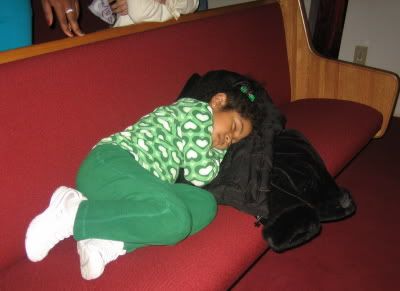 Enock
's widow
Natalie
and his daughter
Jana
were also in attendance. Natalie spoke and Jana took a nap.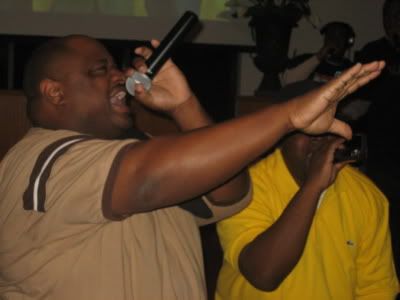 The W.A.R.R.I.O.R.S.
and
DJ D-Lite
(background) hit us with their anthem and "No Limits" tracks along with some of their testimony and teaching.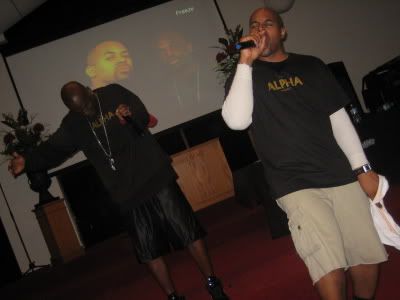 Finally,
DJ 1-God
(back) and
Ex
(front) hit the stage on some "Yes, Yes, Y'all" hype.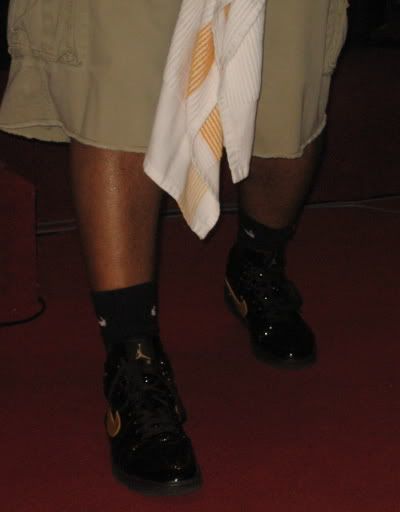 The
Alpha Project
's color scheme was black and gold - as represented in Ex's fresh new J's.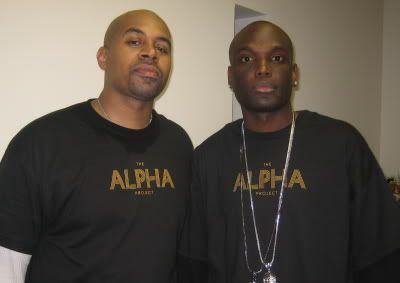 During the concert,
Ex
explained how he met
DJ 1-God
in his Alpha Phi Alpha fraternity at
Stephen F. Austin State University
and how he helped disciple 1-God prior to them doing music together.
During the show, it struck me that these two dudes have celebrity look alikes.
Ex = NFL quarterback
Donovan McNabb
DJ 1-God = Hollywood actor Jimmy Jean-Louis (aka
"The Haitian"
on NBC's "Heroes")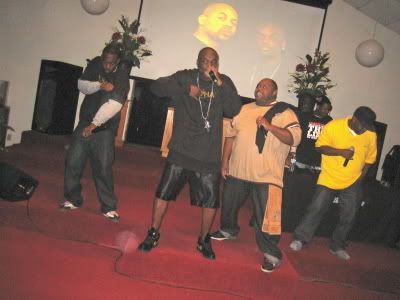 Toward the end of the night, the
Alpha Project
boys invited
The W.A.R.R.I.O.R.S.
on stage for their thumping "Blood Money" collab.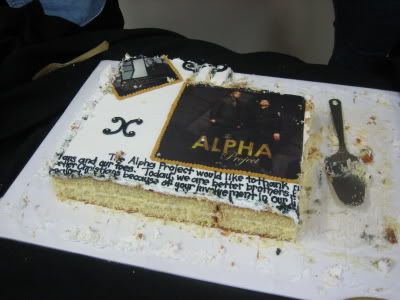 The Alpha Project folks know how to celebrate - with cake!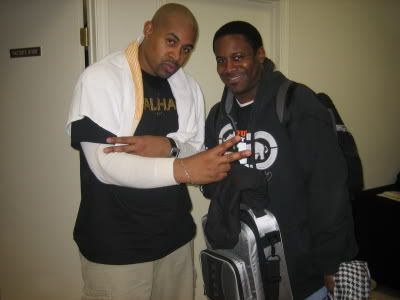 Ex with
DJ D-Lite.
D likes to call Ex his "spiritual twin brother." But as you see above, I've already pointed out his physical doppelgänger.
This event definitely had a different vibe. It was an entertaining show for sure, but it was also an intimate encounter with the One True God among friends, family, and supporters.
Refreshing.
Pick up and sample
The Alpha Project
at Join at the Hip Ministries website right
here
.