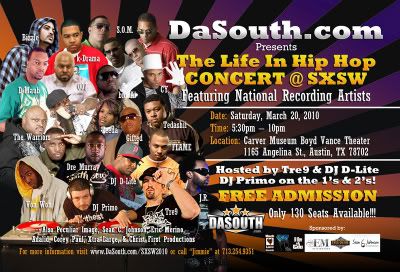 The list of outstanding performers at the
DaSouth.com Presents The Life in Hip Hop
stage at this year's
2010 SXSW Music Festival
continues to grow.
In addition to the names announced in February, the list of Christian rap ministers now includes:
• Fedel
• Ras aka Lil Raskull
• 007 (formerly of the 5th Ward Boyz)
• Zeeda
• CY
• Peculiar Image
• Xtra Large
• Corey Paul
• Sean C. Johnson
• Eric Merino
• Adalid
Taking place
Saturday, March 20
at Austin's George Washington Carver Museum and Cultural Center, DaSouth.com presents The Life in Hip Hop will showcase performances from some of gospel hip hop's most polished performers.
Admission to all parts of this distinctive stage will be free of charge and open to the community.
Tre9
and
DJ D-Lite
will co-host with
DJ Primo
manning the wheels of steel in between sets.
Unfortunately, previously promoted performers
FLAME
,
JR
, and
D-Maub
are now unable to attend. Still, headliners like
Tedashii
,
k-Drama
,
Dre' Murray
, and many others promise to make this an official SXSW showcase you do not want to miss.
For more information visit:
http://www.ci.austin.tx.us/carver/
or
www.dasouth.com/sxsw2010
.
Related:
Initial list of performers for SXSW 2010 announced.
Help promote this event by downloading the flyer image here and making it your Twitter and Facebook profile images and/or e-mailing it to your friends and family.