Normally I take pride in breaking news stories. October 17, 2009 was not one of those days.
That was when I had to tell the world my friend died unexpectedly.
You may know him as
Enock
- a member of Christian hip hop's flagship group
The Cross Movement
. He helped found and, in fact, gave them that title.
That seems like a lifetime ago. Another name, another city.
On this day, he was simply
Juan James
– husband to Natalie and father to then 4-year-old Jana.
The word I received was that, despite his youthful 35 years, Juan had an apparent heart attack at his overnight job. I was on the road at the time – traveling through the winding mountain roads of Arkansas to visit family.
Well, Enock was my family, too.
With spotty cell reception, Twitter seemed the best way to let the largest number of people know about our loss in the quickest way possible. One hundred forty characters and 30 tear-shedding seconds later, the word was spreading as well as prayers for his surviving family.
How I wished it were a mistake; a terrible, gossipy rumor that we are known for all too often.
When I arrived at my destination I was finally able to muster up the courage to call his wife. Unfortunately, Natalie's sobs told me I had been a faithful journalist.
*****

Houston got to know Enock at the turn of the millennium. In 1999 my man
s/ave
was running
ONEMIND Magazine
out of his apartment. When he found Enock through an instant messenger search they became kindred friends, chatting freely, sharing stories, and talking about the sacredness of music and life.
At this time Enock had been asked to/decided to step away from the mic after dealing with sexual addiction and divorce – two seemingly "Scarlet Letter" sins for anyone involved in gospel music ministry.
A year later OM's operations were moved to the offices of
Much Luvv Records
, where s/ave worked closely with
Tre9
. There, he established long distance ties between Nock and Tre and the trio built with one another through several late-night phone conversations. Seeking friendship, accountability, and a fresh start - Enock then decided to move from Philadelphia to Houston.
To me, as Sketch, I saw Enock as a rock star during our first face-to-face meeting. After all, this was
THE
Enock from
THE
Cross Movement. He deflected the admiration. Even though we knew him as the booming voice from "Introducin'" his own self introduction was always just "Juan" and usually not even audible. A man of considerable size and build, (CM members remember calling him "Cell Block 'Nock") he still seemed shy, contrite, and gentle.
*****

Part of Enock's healing process came through the helping of others. Here in Houston, he started what were called R.A.M. Sessions – monthly Bible study and accountability meetings designed to "Restore All Men."
Approximately a dozen guys devoted themselves to this group – praying for one another, asking tough questions, and allowing themselves to be vulnerable.
At Enock's memorial service, these gatherings garnered nearly as many mentions as his song titles. Years later the legacy and impact of those studies survive its founder.
*****

Imagine if
Trip Lee
, the talented young bol from Reach Records'
116 Clique
, decided to switch camps, move to Florida, and make music for the independent, less lyrical theology-driven
GodChaserz Entertainment
label.
That's akin to what took place when it was announced that Enock's next project would be released on Much Luvv Records.
And it was bound to happen. Several months of living with and working for Tre9 had surely stoked his creative fires. With a renewed confidence, Enock expressed a desire to "take off the mask" of a professional Christian and share his story. His next album would honestly discuss his failures as well as the battle and temptations that plague full time music ministers.
The result was
AWEthentic
– a meaningful collection of tracks some deemed too raw for release. Enough that, a few short weeks before the project was scheduled to be the first title submitted to a new distributor, a key studio technician decided it best to pull his music off of the unconventional record.
Thankfully, the selfless
Stephan "Stikk" Oran
came to the artist's aid, producing the perfect backdrop for Enock's truth tales. The deadline was met and the Christian hip hop community got a peek behind the curtain they thought they'd never see.
AWEthentic
illuminated imperfections, challenged co-laborers, and shouted warnings of similar, sin-inviting situations. Too bad not everyone took notice.
In the wake of last year's public admissions of "moral failings" by
Ambassador
and
Da' T.R.U.T.H.
(two artists at the heart of The Cross Movement collective and its associated record label), the album seems eerily prophetic.
If true art always retains its relevance, the
AWEthentic
album is looking ready for the Louvre.
*****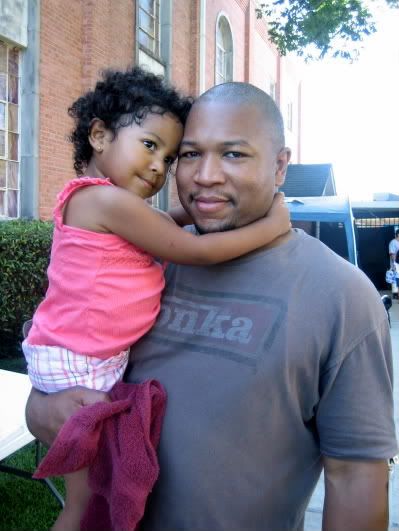 The more I hung out with Enock the more he just became Juan. And the more I just became Jason.
He always asked about things that many do not. About my family. How was the wife? How were things at home? He became a person, not a persona.
We related on several levels. Aside from a love of hip hop and Jesus, we also had our frustrations with His bride. He introduced me to
The Message
paraphrase translation of Scripture. I turned him on to
Don Miller
's
Blue Like Jazz
and singer/songwriter
Derek Webb
. He told me several times that I needed to read
Pagan Christianity
by
Frank Viola
and
George Barna
.
Our deconstructions of traditional church were not mean spirited or ill founded. We were simply two guys trying to reconcile the Christian life we read about in the Bible with what we saw under steeples each Sunday. It was community. It was friendship. Something I miss now.
*****

The most unforgettable part of Enock's memorial service was indeed when Natalie James took the stage. With a strength that shielded her pain, she opened Juan's prayer journal and began to read aloud its entries.
She shared moments of hope and joy: His 30th birthday. The birth of his new daughter. A recent job promotion.
But she also gave a voice to his frustrations and fears: How he couldn't seem to leave hip hop alone despite the toll it took on his family. How he prayed to better manage his finances. How he questioned the quality of spiritual leadership he offered his wife and child.
It was a bit jarring. Who in their right mind would discuss such intimate details in such a public setting – especially when they might be the last words spoken or remembered about this soul?
But in hindsight, there was no better way to honor one of the realest people to ever approach a microphone.
May he rest in eternal bliss with his Father. We will see you soon my friend.