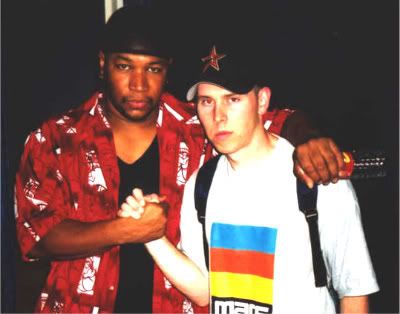 As I'm sure you've heard by now, former Cross Movement member
Juan "Enock" James
passed away this Saturday morning.
I was on the road to visit family in Arkansas when I heard the news. Thankfully
Tre9
was able to put up a quick story on DaSouth.com to share details and information. You can read all about that
here
.
I got to know Enock when he relocated to Houston several years ago and considered him a friend. I've spent all weekend thinking about him, his music, and his ministry impact all while trying to help distribute information and keep people in the loop regarding the care of his wife
Natalie
and daughter
Jana
.
I spoke to Natalie this afternoon as she was making preparations for the funeral. She said she was greatly encouraged by all the calls and messages, but still dealing with it all.
She said she broke down when working on the funeral arrangements because it just didn't seem real or fair that she should have to be doing this at such a young age. She also kept their 4-year-old daughter home from school today because she was crying last night about missing her daddy.
I haven't had a chance to visit (out of town all weekend and live about an hour away from them) but know that several Houston artists and friends have stopped by to look after her. Plus, her family is close so I'm sure that has helped.
Our convo got cut short because the church beeped in during our call and she needed to talk to them.
So, I'm not aware of any immediate financial or physical needs but will try to keep folks posted. DaSouth.com will also be a great place for additional information.
Obviously please keep them in your prayers.